TOPEKA - The Kansas State Board of Education voted today to adopt new curriculum standards for history, government and social studies that put more focus on teaching students to apply knowledge and skills to real-world situations.
The new standards also put more emphasis on the role minority groups have played in American society, something that gratified African-American leaders like Rev. Ben Scott of the Topeka unit of the NAACP.
"There have been omissions in the past," said Scott, who served on the committee that developed the new standards. "African-Americans have made a substantial, and still continue to make substantial contributions to our country. And I think it's imperative for our educators to make sure that every kid in the state of Kansas understands the great contributions that all ethnic groups have made."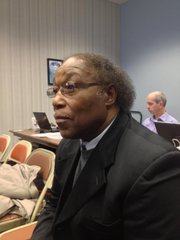 The inclusion of African-Americans and other groups is reflected throughout the document. In fourth grade, for example, students are expected to identify various famous Kansans and the roles they have played.
The list of suggested Kansans to study includes names like Bob Dole, Dwight Eisenhower and Amelia Earhart. But it also includes people like the native American artist Blackbear Bosin, African-American photographer and author Gordon Parks, and Charles Curtis, the first Native American vice president of the United States.
By fifth grade, students will be asked to describe how the beliefs of American Indians differ from those of Europeans. By eighth grade they may be asked to describe how the idea of women's rights has both changed and remained the same since the mid-1800s.
Cathryn Moore, the Lawrence school district's social studies curriculum specialist, said that won't require much of a change for most local classrooms. "I feel that Lawrence does a good job of representing those populations already," she said.
But Moore said she likes the new focus on teaching students how to apply the knowledge and skills they learn.
"The focus shifts more from historical knowledge to historical skills," she said. "So that's nice, because students will have more exposure to historical skills and how they can effectively use those."
Education news
Have a story idea?
Contact Journal-World education reporter Elliot Hughes:
ehughes@ljworld.com
Copyright 2018 The Lawrence Journal-World. All rights reserved. This material may not be published, broadcast, rewritten or redistributed. We strive to uphold our values for every story published.