Photo Gallery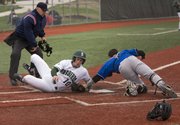 Free State baseball vs. Leavenworth
Leavenworth High's baseball team had its chances to manufacture a run or two Monday at Free State, but senior FSHS pitcher Dane McCullough and the Firebirds defense terminated any such possibility in a 4-0 Free State victory.
The Pioneers put nine runners on base and stranded six in a two-hit, three-walk, seven-strikeout, complete-game victory for McCullough. The right-handed starter kept his team undefeated after getting out of the first, second and third innings with a runner in scoring position.
"He's composed," FSHS coach Mike Hill said of McCullough (3-0). "He had to work around some freebies — a couple errors, a couple walks — and found a way to get it done."
McCullough, who only allowed hits to Pioneers leadoff man Eli Keppler, didn't walk anyone after the second inning. When Leavenworth put someone on via hit, error, fielder's choice or getting hit by a pitch in the final five innings, the pitcher said Free State (9-0) created a solution.
"The defense was just amazing behind me," McCullough said. "We had a couple of errors that didn't come back to bite us, and I'm thankful because some people made some good plays out there behind me and made my job easier."
McCullough didn't crumble under pressure. He struck out a Pioneers batter — with at least one runner on base — to end the second, third and fifth innings.
"I love those kinds of situations," he said. "Especially with two outs, when I know just a strikeout will end it."
Leavenworth had a runner on first and one out in the top of the sixth when James Gladieux hit the ball sharply up the middle to FSHS second baseman Cooper Karlin. Hill was pleased to see Karlin step on second and fire to first baseman Jacob Caldwell for the inning-ending double play.
"It was a terrific play," the coach said. "Cooper's just a sophomore, and he's become such a good player defensively."
The double play assured FSHS would face the bottom of Leavenworth's order in the seventh, and McCullough retired the Pioneers in order to end the game.
The Firebirds got all the offense they needed in a three-run fourth. Caldwell led off with a single. Lee McMahon reached on a ground ball up the middle after the Pioneers picked up a force out at second. Then Sam Hearnen managed an infield single to put two runners on for Cameron Pope, who tripled to the right-field gap for a 2-0 Free State lead.
Pope slid in to beat a throw home and make it 3-0 on Anthony Meile's grounder to second base.
"When we have a big inning," Pope said, "we just stay on top and don't usually let them back."
That was the case against Leavenworth, but FSHS added another run in the fifth, with two outs. Pope hit a dribbler down the first-base line and avoided a potential tag by LHS pitcher Judson Cole, allowing courtesy runner John Fellers to score from third.
"It was pretty lucky," Pope said, wearing a grin. "I kind of half-swung, and it worked out in our favor. ... Basically, that's how it's been going this season."
Free State will face Topeka Hayden at 7:15 p.m. Thursday at Hoglund Ballpark in the River City Festival.
Leavenworth 000 000 0 — 0 2 1
Free State 000 310 x — 4 7 2
W — Dane McCullough, 3-0. L — Judson Cole.
2B — Zach Bickling, Free State. 3B — Cameron Pope, Free State.
Free State highlights — McCullough, 7 IP, 2 Hs, 7 Ks, 3 BBs; Pope, 2-for-3, 3 RBIs, R; Lee McMahon, 1-for-3; Sam Hearnen, 1-for-3, R.
Copyright 2018 The Lawrence Journal-World. All rights reserved. This material may not be published, broadcast, rewritten or redistributed. We strive to uphold our values for every story published.