If you're ever robbed, beaten or defrauded, there's a good chance you'll find yourself sitting across a desk from Dolores Moseley.
Whatever has happened, you can tell her. After more than two decades as a victim/witness coordinator in the Douglas County District Attorney's Office, she's seen almost every kind of tragedy. People who have been to her office say she will really listen to you, and then ask you, in a soft voice, if you are really OK, or if you might need some help. She'll persuade you to testify against your attackers in court, and try not to let you think that your case is just one of hundreds that she deals with every day.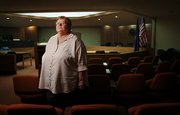 "I've done so many homicide cases, they blur together," Moseley said Thursday, between court cases. "I never realized the horrific things people do to each other to until I worked here."
'Day in and day out'
Moseley took a recent road trip to Wichita, where Kansas Attorney General Derek Schmidt presented her with the Outstanding Victim Advocate award at the 16th annual Crime Victims' Rights Conference. She'd been nominated by Sarah Jane Russell, executive director of GaDuGi SafeCenter, who often works with the same domestic violence victims that Moseley sees. Moseley has won awards before, but rarely mentions it.
Russell has been working with Moseley for 20 years, and said crime victims couldn't find anyone better to guide them through the grueling experience of recovering from violence or testifying in court.
Moseley, who has said she expects to keep working for years, was still in court waiting for a verdict when Russell left the law enforcement center at 7 p.m. last Thursday. It was a typically long day of answering questions for crime victims, guiding them through the process of helping prosecutors convict their offenders, and appearing in court.
"It's always been Dolores," Russell said. "She has such a depth of caring, always asking the next question. 'How are you really feeling?' It's day in and day out, and she's someone you can just tell it all to."
With hundreds of criminal cases every year, for decades, that's a lot of stories, and both Russell and Moseley say that takes a toll. Moseley sometimes wakes up at night thinking about the people she's seen, even years after the cases are closed.
Ticking time bombs
One that keeps coming back to her is the case of a woman living in fear of an abusive ex-husband. More than 12 years ago, the woman came home to find the man waiting for her outside. She tried to get in the door and shut him out, but he pushed his way in, poured gasoline on her, and showed her a lighter. He stood there and held the flame, but didn't touch her with it.
Moseley remembers another case, in which a divorced woman's child found a package in the mail and brought it to her. Peeking inside, she saw a bomb built from a mousetrap and explosives.
Both of those women survived, but Moseley can always remember another case that was even worse.
The most frustrating cases come from domestic violence, Moseley said. People come in suffering and then go right back to their abusers.
"You try to shrug it off when you go home at night," Moseley said. Some nights, she determines that she won't answer the phone no matter what. Or she might go out for a drive. Anything to entertain herself and take her mind off what could be happening to her clients.
Other nights, can't seem to forget it. "Sometimes, I've woken up and I think 'I hope she's OK.'" She thinks of a woman who has just that afternoon told her, "He's going to kill me. He's said he's going to kill me."
Real life, worry stones
But Moseley will tell you that the county can't prosecute someone for something they might do. Only what they have done. People aren't always happy with, and sometimes don't understand, how the system works, and a big part of Moseley's job is fielding questions and complaints from people who have been wronged.
"We get yelled at a lot," she said. People grow impatient with a system that takes months, or even years, to reach a conclusion in serious criminal cases. And people aren't always happy with those conclusions.
"In child sex cases, especially, the parents usually want blood," Moseley said. And she's sympathetic. On the other side, there are constitutional rights that apply to people accused of crimes, and sentencing guidelines set down by the state Legislature. People who are accustomed to watching "CSI" programs on television are often surprised at how difficult and complex real-life evidence is when — and if — prosecutors can get it.
So, she tries to educate and assist people the best she can. There's no instruction manual for much of her work, and she improvises techniques as she goes along. In past years, she gave nervous witnesses a lucky rabbit's foot to hold before taking the stand. She found it helped witnesses to have something to do with their hands.
"But their palms were so sweaty sometimes, they would get up on the stand and have pink hands," she joked. In time, she learned to substitute smooth quartz "worry stones."
Survivors
Everything Moseley learned, she learned on the job, working her way up from the child support collections unit operated by former District Attorney Jerry Wells in the 1980s. Her second week as a victim advocate in 1989, she found herself dealing with a double homicide when a Topeka man kidnapped three senior citizens during a botched burglary and shot two of them to death in a field northwest of Lawrence. A third man, Verne Horne, escaped, and helped Moseley and the prosecutors convict the killer.
"I honestly don't know how I did it," Moseley said. "And you do get kind of attached to the families, in some cases. You get to know them, and you have to detach after it's over, or else it takes a piece of you. I've met some awfully nice folks."
Moseley said she supposed she could relate to people like Verne Horne because she had been a witness in a murder case, too. In her youth, in Illinois, her roommate was murdered by a boyfriend. The man hunted Moseley and two other friends, too, but he committed suicide before he found them. Moseley remembers that so much attention surrounded the murder that people stopped coming around to visit her. "Nobody knew what to say to me, because it was so horrible."
Sometimes, Moseley doesn't detach completely from the people she works with. She still sometimes sees Darlene Mortell, a Lawrence woman who came to her in 2007 after being defrauded by her fiance. Mortell had received an overdraft notice from her bank and discovered that the man had secretly emptied her bank account. When she pressed charges, she found herself in Moseley's office.
"I don't know how she knew how upset I was, and that I would need counseling," Mortell said. "But she knew."
As the case went through court, Moseley was there to help and answer questions about how the system works, and Mortell found comfort in Moseley's soft voice.
"She takes time, and she cares. She really cares," Mortell said. "She will do anything that she can do to get you through what you're going through."
In the the end, Mortell wasn't pleased with how the case ended — her former fiance spent a short time in jail — but she found a friend in Moseley.
Copyright 2018 The Lawrence Journal-World. All rights reserved. This material may not be published, broadcast, rewritten or redistributed. We strive to uphold our values for every story published.