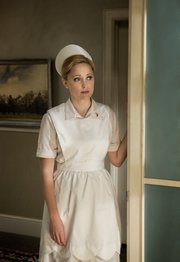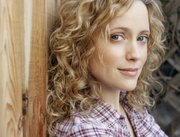 'Granite Flats'
"Granite Flats" — set in 1962 and described as a family-friendly period drama with a sci-fi twist — airs Sundays on Dish Network, DirecTV and select cable systems. Episodes also are viewable online at byutv.org. The series premiered April 7.
Annie Tedesco is everywhere
Have you seen Annie Tedesco before? If you watch TV, the answer is probably "yes." The Lawrence native has appeared in some memorable commercials and popular TV shows over the last few years. Here are some of the highlights:
• "Granite Flats" (2013-present, plays lead character Beth Milligan)
• "Bones," (2012, plays Meg Vinnicombe in the episode "The Past in the Present"
• "The Secret Life of the American Teenager" (2011-12, eight episodes)
• "The Mentalist" (2011, plays Ann-Marie in the episode "Little Red Book")
• Modern Family (2011, plays Laura in the episode "When Good Kids Go Bad")
• "Criminal Minds: Suspect Behavior" (2011, plays Julie Camden in the episode "Smother")
Tedesco has also appeared in commercials for Ace Hardware, where she tries to find her "soul paint," Bud Light, where she trips a waiter to get his attention and he falls through a window, and Old Spice, where she sticks her nose in a man's armpit.
She's also appeared in the Lifetime movie "Blue Lagoon: The Awakening."
Plenty of pretty, talented actresses auditioned to play Beth Milligan in the new TV series "Granite Flats."
Most played it safe with the 1960s female lead, the show's director says. What stood out about Annie Tedesco is something she probably brought with her from Kansas.
"When it came right down to it, we needed someone who could be kind of plucky," says Scott Swofford, BYU Broadcasting creative director and "Granite Flats" director.
"There's this kind of lack of baloney when you start dealing with Annie, and that's refreshing. That's part of who she is and where she comes from."
Growing up in Lawrence, Tedesco dreamed of moving to Los Angeles to act. She's had co-starring roles in a number of popular sitcoms, but "Granite Flats," which premiered last weekend, is her first television lead.
All that, and Tedesco has never waited a table.
At least not since leaving for Hollywood. Commercial work paid her bills, starting with a Burger King commercial she landed on her third audition in the city.
"I'm so thankful, because I've been doing commercials ever since," Tedesco says. "I have never waited a table in Los Angeles — Dad was wrong."
•••
"Dad" is Kansas University theater and film professor John Gronbeck-Tedesco. Tedesco's mother, Susan Gronbeck-Tedesco, KU's associate vice provost for international programs, has a doctorate degree in film.
"Movies have always been very important in our house," Tedesco says.
As a child, Tedesco loved Lawrence's Seem-To-Be Players children's theater company. She acted some growing up, including appearing in "Annie" at West Junior High School.
"I think I became New Yorker No. 7," she says. "I don't exactly remember."
She didn't participate in Lawrence High School theater but did a few shows with Lawrence Community Theatre, including playing Elaine in "Arsenic and Old Lace" around the time she finished college.
Tedesco's KU degree is not in drama, but in psychology, with an emphasis in cognitive neuroscience, a major she's sure her ability to memorize helped with.
"My dad told me that if I wanted to be an actor, I had to have a reasonable degree," Tedesco says. (His other advice was learn to wait tables, of course, which she did at Milton's and, later, as a cocktail waitress at the Levee in Kansas City, Mo. After college, Tedesco even briefly worked on a yacht in the Caribbean.)
Within a few years of graduation, she joined the Seem-To-Be Players she loved as a child on a U.S. tour that dipped into Canada.
"I was completely hooked," Tedesco says. "I felt like I was famous. Auditoriums of 2,500 kids screaming for you was pretty cool. "
On a stop in Los Angeles, Tedesco discovered the Groundlings comedy troupe. She went through their training program but instead of continuing on to perform with them, she turned to acting in commercials for the dependable pay.
•••
Tedesco will be the first to tell you that while rolling around in the sand with a hunky guy in an Old Spice commercial may look romantic, it's more work than it looks for 30 seconds — including a pair of jeans full of sand and some scary pyrotechnics to create all those sparks.
She's also acted in a Bud Light commercial where a stuntman crashes through a glass window next to her, and — on air now — the Ace Hardware "Find Your Soul Paint" commercial with its lineup of purple men.
Tedesco says she learned quickly that making the step to television doesn't happen just by being in Hollywood.
"I thought, 'I'm definitely getting discovered,'" Tedesco says. "It turns out it's not that easy. Steven Spielberg is actually not at the bank looking for you."
In a field with no real corporate ladder, Tedesco says, she and her agent created their own. She started small, going after TV roles she was capable of getting, and gradually moved up.
In the past few years, she's had co-starring roles on episodes of "Modern Family," "Bones," and the "Mentalist," to name a few. She also did eight episodes of "The Secret Life of the American Teenager." And if that weren't enough, she does stand-up comedy and voice-over work, too.
•••
Filming wrapped at the end of March for "Granite Flats," a family-friendly period drama with a sci-fi twist.
Tedesco says she's tried to exercise patience — which doesn't come naturally to her — while maintaining an inner strength for her character, Beth Milligan, who moves to a rural town to start a new life with her 10-year-old son just months after her husband's mysterious death. Beth, who works as a nurse on a military base, begins to realize there's something mysterious about their new surroundings.
Shooting on location throughout Utah, Tedesco dealt with freezing temperatures and many changes of scenery like a "trooper," director Swofford says.
Swofford says the show's April 7 premiere pulled in an unprecedented audience for BYUtv and that he's pleased with its great start.
The "Midwest sensibility" Tedesco jokes about has served her well during filming, Swofford says. "She feels a real compulsion to make it her own."
Copyright 2018 The Lawrence Journal-World. All rights reserved. This material may not be published, broadcast, rewritten or redistributed. We strive to uphold our values for every story published.