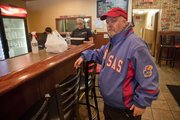 At first, Mike Amyx orders biscuits and gravy.
Everybody standing around Amyx's chair at his downtown barber shop at Ninth and Massachusetts laughs. They know Amyx isn't going to have biscuits and gravy for breakfast.
"Ah, just the usual," Amyx says.
And so Tim Easum takes the few dollars Amyx pulls from his pocket and plods out the door to go fetch the usual.
Outside, Easum explains that there is a simple reason why Amyx won't be covering anything in sausage gravy today. Sure, cholesterol may be the simple answer, but there is more to it than that.
"His wife would kick his butt," Easum says.
That's the way it works around here. If there's something more to know about downtown, Easum usually can fill you in on it. Anybody who has ever been to Amyx's barber shop — or the barbershop of Amyx's brother just up the street, for that matter — probably has heard Easum explain it at one time or another.
'Here I am'
Perhaps you are confused, though, because not many people know Tim Easum. But a whole lot know Toad, the downtown go-for who owns Toad's Delivery Service.
It would make sense that Easum got the nickname because of his propensity to hop around downtown from store to store with a delivery. But soon enough you'll realize sense is overrated.
"I don't know why they nicknamed me Toad," he says. "One of the guys at Mike's shop gave me the nickname when I first started coming in there. And it stuck."
So has Toad. For 23 years, Easum, 47, and his mo-ped have been making the trip to downtown Lawrence most Mondays through Saturdays to do whatever errand needs doing for downtown businesses. Breakfast delivery is a big one. Getting change at the bank is another. Plugging a parking meter has happened a time or two as well. Even buying panty hose isn't out of the question. It was on a Halloween, but in case you are wondering, a guy named Toad buying panty hose does cause a store clerk to ask a few questions.
"When I first started, I didn't think I would last six months doing this," Toad says.
But to be fair, when he started he didn't really know he was entering the delivery business. He thought he was just getting a haircut.
And wondering what he was going to do after his father died.
Mike Amyx knew Toad. He was the type of local boy you would see while you're out and about, perhaps at Walmart or Dillons where he worked at times. But Amyx also knew Toad's dad, a hard-working iron worker. Amyx cut his hair, including those days when he was in hospice care.
"I asked Mike Amyx whether there is anything I could do for him," Toad says. "And here I am."
Road warrior
If Toad is here, then his mo-ped must not be too far away. From Day 1, the delivery service has featured a mo-ped.
You've probably seen it, perhaps at the gas station. He fills it up with $3 in fuel every other week. "People cuss me every time at the gas station."
Or you've maybe seen him out on the road. If you've gotten a little too close to him on his mo-ped, he might have acknowledged you with a special gesture or something like that. Don't hold that against him. Life on a mo-ped in Lawrence "can get a little hairy."
"I had a truck pull out in front of me," Toad says of an incident about six years ago. "I hit it, flew over the handlebars and knocked the camper shell off the truck."
The accident left him with a totaled mo-ped, a "rung bell" that kept him out of work for a few weeks, and an almost daily question.
"The police officer who worked the scene sees me downtown a lot," Toad says. "He always asks me if I brought my helmet today. I know a lot of police officers. They watch out for me."
People person
As a fellow who spent a part of a day following him around — a Toad in training, so to speak — I can tell you that Toad knows a lot of people. People working a counter say hello, a merchant plugging a meter yells across the street to say good morning. On days Toad doesn't show up downtown, one of the Amyx brothers invariably calls him to find out what is going on.
People call for other reasons, too. A quick call or a text is how he gets summoned for some errands. But many times, he just stops by and does what Toad does best: checks in on what is going on.
Today, that scored an order of a power bar and coffee from Rhonda at Pro Print.
"Just a bit of milk?" Toad confirms.
As a Toad in training, I wonder what the key is to this job. Maybe it is knowing how much milk constitutes "a bit." Maybe it is having a mental Rolodex that remembers everybody's "usual." Oh, by the way, bagel with plain cream cheese is an important one to remember.
"Mike's is always plain cream cheese," Toad says. "I got him some flavored cream cheese once, and, well, I won't do that again."
Maybe it is keeping your arm limber. There's a lot of waving going on, or giving a friendly point to a car that honks on its way by. Right now, we're in prime waving season downtown. Spring has sprung and so has a certain spirit.
"It is a good time," Toad says. "Everybody is smiling, everybody is saying hi to everybody. If you stay inside, those four walls start closing in on you. It does you good to get out and mingle with people."
Right on cue, there is another wave. It is his neighbor parked at a red light. She sees him and gives a genuine smile and a hello. Another small reminder that sometimes the best part of downtown is what's not for sale.
A friendly hello can do so much, including jog the memory of a Toad in training. Toad already had told me what the most important skill is for this job.
"Just be nice to people."
How great it would be if that were everyone's usual.
— Each Sunday, Lawhorn's Lawrence focuses on the people, places or past of Lawrence and the surrounding area. If you have a story idea, send it to Chad at clawhorn@ljworld.com.
Copyright 2018 The Lawrence Journal-World. All rights reserved. This material may not be published, broadcast, rewritten or redistributed. We strive to uphold our values for every story published.