City Showdowns between rivals Lawrence High and Free State always mean a lot to the Lions and Firebirds involved, but the boys tennis players at FSHS have an added incentive every spring: LHS has never defeated Free State in a dual.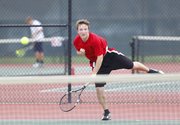 The Firebirds' run of domination continued Tuesday, with a 7-2 win, their 16th straight in the City Showdown.
"We didn't want to be the senior class that loses to Lawrence High," Free State's Miles Stevens said after winning in singles and doubles at LHS.
Lawrence fell in an early 3-0 hole thanks to a FSHS sweep in doubles. Richard Lu and Josh Saathoff (No. 1), Brandon Juracek and Stevens (No. 2) and Braden Clements and Antonio Schoneich (No. 3) all handled their LHS foes.
Saathoff and Lu, paired together for the first time this season, swept past LHS junior Thomas Irick (No. 1 singles) and freshman Elliott Abromeit, 8-0. Saathoff said he's used to playing singles and he didn't know what to expect against Irick, the city's top player.
"You've got to get the first serve in on Thomas," Saathoff shared, "otherwise he'll rip it right back at you when he has the chance."
But Saathoff stayed back against Irick's serves and Lu played up at the net, which worked perfectly for the duo.
Irick enjoyed much more success in singles, defeating Lu, 8-3. Lu won the fifth game to cut Irick's lead to 3-2, and Lu was a point away from evening the score in the sixth game after Irick double-faulted at deuce, but Irick recovered to win that game and four of the next five.
"It was really a mental struggle for me, I won't lie," Irick said. "I'm a little bit out of practice. It's just a matter of forcing myself through that and doing what I need to do to win."
LHS senior Austin Abbott gave his team another victory in No. 2 singles, beating Juracek, 8-0. But Free State won the other four singles matches, courtesy of Stevens, Saathoff, Clements and Schoneich.
Stevens and Lawrence junior Christoph Brandt played the match of the afternoon in No. 3 singles. Stevens battled back from a three-game hole to win in a tie-breaker, 8-7 (7-4). Though Brandt faced match points in the 14th game, he forced a tie-breaker.
"I started out pretty poorly and just couldn't make any shots," Stevens said of trailing 6-3, "but I just knew if I got everything back over (the net) my game would eventually come, and it did."
FSHS coach Oather Strawderman, like the rest of the Firebirds, was impressed with Stevens' resiliency.
"He stayed positive the whole time," the coach said. "He didn't get down on himself and he didn't express his negativity. One of the surest ways you can help your opponent is to have an error and then show that you're upset about it."
LHS coach Chris Marshall said he saw some improvement in the dual loss, but the struggle now is when some of the Lions fall behind in a match, it affects their fundamentals.
"If you start worrying about the score and all that, then the pressure gets to you and you end up trying to do everything perfect, and you can't, and all that does is frustrate you," Marshall said.
Free State 7, Lawrence 2
Singles
No. 1 — Thomas Irick, LHS, def. Richard Lu, FS, 8-3
No. 2 — Austin Abbott, LHS, def. Brandon Juracek, FS, 8-0
No. 3 — Miles Stevens, FS, def. Christoph Brandt, LHS, 8-7 (7-4)
No. 4 — Josh Saathoff, FS, def. Elliott Abromeit, LHS, 8-0
No. 5 — Braden Clements, FS, def. Kley Bolivar, LHS, 8-3
No. 6 — Antonio Schoneich, FS, def. Adam Eudaly, LHS, 8-2
Doubles
No. 1 — Lu-Saathoff, FS, def. Irick-Abromeit, LHS, 8-0
No. 2 — Juracek-Stevens, FS, def. Abbott-Brandt, LHS, 8-4
No. 3 — Clements-Schoneich, FS, def. Bolivar-Eudaly, LHS, 8-3
Copyright 2018 The Lawrence Journal-World. All rights reserved. This material may not be published, broadcast, rewritten or redistributed. We strive to uphold our values for every story published.