Lawrence High starting pitcher Brandon Bell always works quickly on the mound, but he took it to another level Tuesday at home.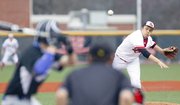 Photo Gallery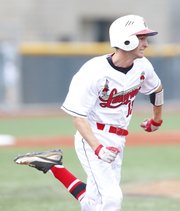 Prep Tuesday
Tuesday, April 9, 2013, was a busy day for city high school athletes. Here are images from Lawrence and Free State on the diamonds, on the pitch, on the court and in the pool.
The 6-foot-2 junior right-hander threw a complete-game shutout on just 59 pitches, guiding the Lions to a 3-0 win against Leavenworth.
Bell allowed only three hits (all singles), walked none of the 23 batters he faced and struck out one. He constantly enticed the Pioneers to swing early in the count and the victory — Bell's fourth of the season for Lawrence (6-1) — lasted just more than an hour.
Lions coach Brad Stoll had never seen a game move so quickly and credited Bell for making it possible.
"It's just strike after strike after strike," the coach said, "and most of his balls are purpose pitches."
Of course, Bell tipped his cap to Lawrence's infield — shortstop Shane Willoughby, second baseman CJ Stuever, third baseman Michael Sinks, first baseman Jacob Seratte and catcher Drew Green. All but Seratte, who made a nice scoop on a throw to first in the fifth, made a putout on a grounder or pop-up in the win. So did outfielders Easton Barnes, Kieran Severa and Adam Rea.
"If you don't have trust in your defense," Bell said, "then you're just gonna walk a lot of people."
Actually, neither team drew a walk in the game. Leavenworth starting pitcher Judson Cole (six innings, seven hits, four strikeouts) worked almost as quickly as Bell. But he got into a couple bad situations on the rare occasion he left a pitch up in the strike zone.
The Lions took the lead for good in the bottom of the first. Severa reached on a fielder's choice, advanced to second on a botched pick-off attempt by Cole and scored to put Lawrence up, 1-0, when Green smacked a triple to the left-center gap.
That was just the first of three extra-base hits for the Lawrence catcher, who doubled in the fourth and helped Lawrence tack on two insurance runs in the sixth. Green plated Severa with another RBI triple and scored the Lions' final run when Sinks doubled to the left-field wall.
It was Green's first multi-triple game of his LHS career and his teammates let him hear about it.
"They kind of respect my speed, because they've been around me a little bit," Green said with a smile. "They know if I come out of the box hot I can probably do it. But they don't expect it all the time."
Lawrence plays host to Shawnee Mission East at 5:30 p.m. Thursday.
Leavenworth 000 000 0 — 0 3 1
Lawrence 100 002 X — 3 7 0
W — Brandon Bell, 4-0. L — Judson Cole.
2B — Drew Green, Michael Sinks, Lawrence. 3B — Green (2), Lawrence.
Lawrence highlights — Bell, 7 IP, 59 pitches, 3 hits, 0 BB; Green, 3-for-3, 2 RBI; Sinks, 1-for-3, RBI; Kieran Severa, 1-for-3, 2 runs.
Copyright 2018 The Lawrence Journal-World. All rights reserved. This material may not be published, broadcast, rewritten or redistributed. We strive to uphold our values for every story published.