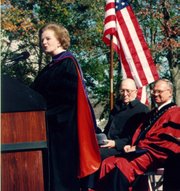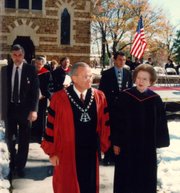 The obituaries for former British Prime Minister Margaret Thatcher, who died Monday at the age of 87, probably won't mention her ties to eastern Kansas. But that doesn't mean people in this region have forgotten them.
The Methodist chapel Thatcher attended as a child, and where her father was a lay minister, now resides at Baker University. The Iron Lady visited Baldwin City on Oct. 23, 1996, to help dedicate the Osborne Chapel, which had been moved from its original home in England and rebuilt in Douglas County.
It was an event many of those in attendance remember fondly. From the snowstorm the day before to the snipers set up on roofs to the Irish Republican Army protestors, the experience was, for many, surreal. And it might never have happened if not for the vision of then-Baker President Daniel Lambert.
Lambert arrived at the university in the late 1980s surprised to discover that the school, which was founded by Methodist ministers, didn't have a chapel, so he set out to find one of significance to the denomination. A Baker professor at the university's study-abroad program in Grantham, England, came upon a chapel that fit the bill. It was located in the English village of Sproxton, in the region where Methodism came into existence. After lengthy negotiations with the British government and Methodist church, the chapel was dismantled and shipped to Baldwin City, where it was reconstructed, stone by stone.
Along the way, university officials discovered that Thatcher, who grew up in nearby Grantham, used to attend the chapel, which her father, Alfred Williams, preached at. With the help of then-U.S. ambassador to Britain Charles H. Price II, the college arranged a visit from Thatcher.
On the day before the dedication, however, university officials worried she might not make it. A storm dubbed "the October surprise" covered Baldwin City with 6-8 inches of snow and flooded the basements of several local residents, including the president himself.
But Oct. 23 turned out to be a spectacularly beautiful day. People lined the streets. Local schools were let out early, and students waved American and British flags.
Thatcher arrived that morning as planned. She attended a convocation, spoke at the dedication of the Clarice L. Osborne Memorial Chapel (named in honor of the wife of its donor, Olathe banker Robert Osborne) and ate at a banquet with university officials.
"I can honestly say I've very seldom met anyone as galvanizing as Mrs. Thatcher," said Lambert, who had a private 20-minute conservation with her that day. "She was a magnetic personality."
Thatcher toured the chapel, pointing out where she sat as a child and saying she remembered its stained-glass windows. She noted that she preferred the look of the chapel in its current form.
"She was a woman of elegance and character," recalled the Rev. Ira DeSpain, who has been the only minister in the chapel's 17-year history at Baker. "It did feel like we were on the world stage for a day."
DeSpain also recalled Thatcher speaking of the need to protect children from abuse and pointing out how impressed she was by Methodists' singing abilities.
Robyn Long, an assistant professor of psychology at Baker, was a freshman at the university at the time of Thatcher's visit. She remembers the baroness's Scotland Yard detail, the snipers on the roofs, the protests by Fred Phelps' Westboro Baptist Church and the Kansas City, Mo., chapter of the IRA.
"It gave me a sense of things in life that were much larger than Baldwin City," said Long, who, coincidentally, attended Baker because of her interest in the United Kingdom, where the university has its Harlaxton study-abroad program.
She also recalled how campus officials only had time to repaint three sides of every building (the ones Thatcher was likely to see).
More so than Thatcher's appearance, Long has a greater personal connection to the chapel itself. She married her husband there 11 years after its dedication, her British mother-in-law in attendance.
Either way, Osborne Chapel will be forever associated with Methodism, England and, not least of all, Thatcher.
"This building played a significant role in her young life," added Lambert.
Copyright 2018 The Lawrence Journal-World. All rights reserved. This material may not be published, broadcast, rewritten or redistributed. We strive to uphold our values for every story published.