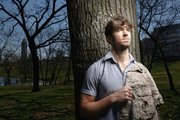 Contact KU and higher ed reporter Sara Shepherd
Have a tip or story idea?
---
More stories
Anthony Schmiedeler had been to a war zone. But he wasn't ready for community college.
It was one thing getting used to the fact that there were people out there trying to kill him, when he was doing two tours in Iraq as a Marine. The tougher transition, though, was going from that to the crowded hallways and classrooms of Johnson County Community College.
"It was just too many people in a little tiny area," Schmiedeler said. "I didn't know any of these people. I was paranoid. I didn't trust any of these people."
His biggest fear in Iraq had been "coming back crazy." And, he would learn, he wasn't crazy. He would soon be diagnosed with post-traumatic stress disorder, start undergoing therapy and begin taking medication for it. Now he's working toward a degree in graphic design from Kansas University, as a 25-year-old junior.
And he'll be able to get that degree without going into debt, now, because he's one of the first two students to receive a Wounded Warrior Scholarship from Kansas University. KU's Office of Graduate Military Programs last week announced two recipients for the scholarship, meant to help injured veterans or the family members who care for them earn KU degrees, for its first year.
For Schmiedeler — and for the husband of Jennifer Thornton of Leavenworth, the caregiver who won the other scholarship — it isn't an injury to his body that makes him a Wounded Warrior. It's the scars left on his brain.
Randy Masten, assistant director for the Graduate Military Programs office, said this fits perfectly with the scholarship's mission: to offer a helping hand to people who've already sacrificed a lot to help out their country.
"Your life experience to the point of that injury is completely different from what it is after that event," Masten said. "Whether caused by a physical injury or a mental one, it doesn't change the fact that these folks can use the help."
'Pretty surreal'
Schmiedeler's journey to this point began when he and his twin brother, Ehren, convinced their mother to allow them to sign up for the Marine Corps when they were 17.
They entered the Marines after they graduated from high school in Kansas City, Kan., in 2005, and both trained together at Camp Lejeune, N.C. They wound up deploying twice to Iraq, at roughly the same time and in roughly the same place.
Anthony's job was to patrol the streets of Fallujah and search for improvised explosive devices. He says he "saw a lot of crazy stuff," and leaves it at that.
"Pretty surreal," he said. "That's the best way to describe it."
Ehren provides some more detail: Anthony was fired on at least once, and his vehicle once struck a mine, but he was never seriously injured.
Nothing could have prepared him for an environment where he was constantly on lookout for someone trying to kill him, he said. But for some reason, being there wasn't as nerve-wracking as trying to attend community-college classes after he was discharged in 2009.
All the people walking around him made him anxious. Any loud noise set off alarm bells inside. He couldn't sleep at night, never sure if he was dreaming or having a waking flashback, and that meant he was always late to class.
He was drifting, unsure what he was really doing in school. He felt like the people walking around him were always sneaking up on him. And then when he told one of them that he'd just returned from Iraq, the first question would always be: "Did you kill anybody?"
"I didn't know how to talk to regular people," Schmiedeler said.
He was sort of "floating along," he says, but then he did something about it. He contacted Veterans Affairs for help and was diagnosed with PTSD. He went to therapy and got a prescription. And all of a sudden it felt like his life had a direction to move in.
"As soon as I started talking to somebody, everything was better," Schmiedeler said. "I was able to get those feelings out, and they told me I wasn't the only one. And that was just nice to know."
He hopes other veterans, too, can ask for help without fear. It's just the right thing to do, he says.
A new path
Schmiedeler transferred to KU in fall 2010, after long feeling a connection. (One of his happiest memories from Iraq is staying up until 4 a.m. to watch the 2008 NCAA Tournament championship game. "I was the only one awake," he said, "and I was yelling.")
He'd always loved to draw, and he settled on graphic design as a major.
In February he won one of three student awards at an annual Kansas City American Advertising Federation ceremony for his work.
"He is amazing at what he does," said his brother Ehren, who left the Marines at the same time as Anthony and is set to graduate in December from KU with a civil engineering degree. He was a good Marine, too, Ehren says: He was promoted to sergeant within his four years, which isn't easy.
He's due to graduate in spring 2014, but thanks in part to his "floating" period early on, he'll have exhausted his post-9/11 GI Bill funding by the end of this semester. That's where this Wounded Warrior Scholarship comes in.
The scholarship pays up to $10,000 per year, and it's renewable for four years. The Office of Graduate Military Studies created it with the help of a number of private gifts, after the U.S. Army opted not to continue another Wounded Warrior scholarship program for graduate studies at KU. This one is open to undergraduates or graduates, injured veterans or their caretakers whose lives have been forever altered, and to veterans whose scars are physical or mental.
There may be more available in future years, Masten said, and it was tough to narrow it to two this year. But it was clear Anthony would make good use of it, he said.
"We just want to ensure that he goes from this point through graduation," Masten said.
And now that there's available money on the table, he might go farther. He loves school now. Schmiedeler says he's pondering a Master of Fine Arts, which would further increase his job prospects. He hopes to do graphic design for a nonprofit or a public agency.
Now he's got a path free of debt. And all he had to do was ask for some help. It's not the first time he's done that, after all.
Copyright 2018 The Lawrence Journal-World. All rights reserved. This material may not be published, broadcast, rewritten or redistributed. We strive to uphold our values for every story published.