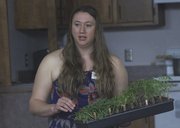 The Master Gardeners of Douglas County Gardening 101 class began with a quote from the book "Garden Primer" by Barbara Damrosch.
"Think like a plant," Master Gardener Jon Standing said.
Standing told gardening students to think how a plant is constructed, how it grows and to think in terms of balancing all the variables that affect a plant.
Standing told the class about climate and weather and taught specifically about temperature, precipitation, sunlight, wind and humidity.
Other teachers at the class included Master Gardener Jack Landgrebe, who gave a botany presentation about plant structure and growth, plant reproduction and photosynthesis; Hollie Journey, who taught about growing vegetables; and Master Gardener Susan Rendall, who discussed low water use for flowers.
"Our mission is education, and a lot of our (Master Gardener) activities don't include a lot of education, so we decided to change our course of action," said Stan Ring, K-State Research and Extension horticulture program assistant. "We're trying to get new Master Gardeners involved, and it (classes) helps our membership as well."
Lawrence resident Jodine Trout teaches science at the Kansas School for the Deaf and attended the class because she isn't at the school to care for plants during holidays and breaks.
"I wanted to learn about planting something that doesn't need me to take care of it over the summer," Trout said. "I just need information."
Trout said the class was an excellent learning experience, and she'll be attending the Master Gardeners of Douglas County's other basic gardening class, Gardening 102, in August.
Gardening 102 will concentrate on soils, lawns, irrigation, trees, houseplants and insect pests, from 9 a.m. to noon Aug. 24. The cost is $10 and participants must pre-register.
For more information or to register contact the K-State Research and Extension-Douglas County at 785-843-7058.
Copyright 2018 The Lawrence Journal-World. All rights reserved. This material may not be published, broadcast, rewritten or redistributed. We strive to uphold our values for every story published.