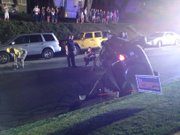 A vehicle rollover Saturday evening near the intersection of 10th and Mississippi streets has left a woman with non-critical injuries.
Emergency crews responded around 10:15 p.m. to extricate the woman from a gray Toyota SUV.
Lawrence Police Sgt. Ted Bordman said it appeared that the vehicle was traveling north on Mississippi Street when it clipped a parked vehicle and rolled over. He said the driver was responsive and in stable condition.
Copyright 2018 The Lawrence Journal-World. All rights reserved. This material may not be published, broadcast, rewritten or redistributed. We strive to uphold our values for every story published.