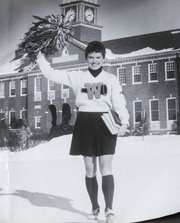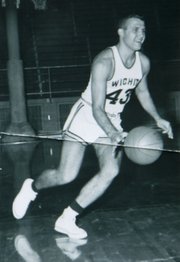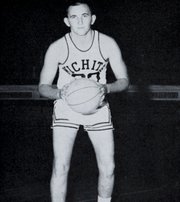 Elaine Woodman was a physical education major and cheerleader in the late 1950s when her class schedule brought her to the Roundhouse, Wichita State's gym, during the basketball team's practice. The assistant basketball coach, Gary Thompson, was a distant relative, so she had no reservations about asking him for a favor.
"I want you to introduce me to that good-looking guy with the cute legs," she said, pointing to a Virgil Brady, a guard on the basketball team.
The coach said he would pass along her interest. Five and a half decades later, Elaine Brady is convinced he did no such thing.
"He came back and he said, 'Well, he's really concentrating on basketball right now and he'd like to meet you next semester.' That's how it came back. The coach probably just wanted his players to toe the mark," Elaine said from the living room of fellow Lawrence residents and Wichita State graduates Jim and Jan Maddox.
Virgil and Elaine's first date — "We went out for a Coke," Elaine said — would have to wait until the next semester.
Several years later, Jim and Jan Maddox had their first date, "a blind date," Jan remembered, "and it was not a great date."
Jim, who had been a football star at Wichita State and a reserve on the basketball squad, was an assistant football coach at his alma mater. Jan was a sophomore and had been set up on the date by a Delta Gamma sorority sister.
Thinking it would impress her, Jim took her on a recruiting trip to watch a football game at Derby High and then to pay a visit — "Had to be at least two hours," Jan said — to a recruit's living room. And then they went out for pizza.
When it came to courtship, the football coach needed a little coaching.
"A lot of coaching," Jan corrected. "Believe me."
Jim let loose a laugh. Does this man ever stop smiling?
March Madness, mixed emotions
This March has taken turns dispensing cruelty and kindness to both couples who are emotionally invested in two of the state's three Division I basketball programs. They may be Wichita State alumni, but they live in Lawrence and root for the Kansas Jayhawks, too.
In the case of Virgil and Elaine, the investment in the Kansas University basketball program was not just emotional but financial as well. They purchased flights to Atlanta in hopes they could see the Jayhawks play in the Final Four. The 14-point lead vanished, the last bite swallowed on a Trey Burke 30-footer that sent the game Michigan would win into overtime.
That made the tickets to fly to the Final Four weekend seemingly useless, or so they thought. It did not occur to them at the time that their alma mater still had a chance to negotiate the road to Atlanta. Shock kept hope from entering the equation at that instant.
Jim and Jan didn't have that on their minds either. Their connection to KU basketball runs deeper than a Lawrence address. Their son Mike was a freshman on the 1988 National Championship team.
Mike's playing days are long since over. He's a banker now, so his father's thrills come courtesy of the players now at his son's alma mater and his own. The beauty of having two teams in the tournament served as a nice distraction from the heavy air that hung over Lawrence in the wake of the Michigan loss.
One night before Kansas' run was derailed, Wichita State had knocked off La Salle to advance to an Elite Eight game against heavily favored Ohio State.
The Maddoxes watched from their home. The Bradys entertained friends with similar rooting interests. Nobody needed to remind Virgil that anything is possible in sports, because he just recently had scored a major upset of his own, a rare victory against his athletic wife in a golf match.
Shocking Shockers
Sure enough, the Shockers, who had bounced No. 1 seed Gonzaga from the tourney, had one more shocker in them. Their 13-point halftime lead against Ohio State ballooned to 20 points with less than 12 minutes standing between Wichita State and its first Final Four since 1965. And then LaQuinton Ross and Deshaun Thomas started heating up, and before you could say, "Oh no, not again!" a Thomas layup had made it a four-point game with 2:10 left.
Hadn't these people encountered enough March sadness? Wasn't this how KU had seen its game slip away? Must the tournament bite over and over with such sharp fangs?
Different people have different methods of dealing with stress.
"I was screaming and yelling and jumping on the bed," Elaine said.
At which point Virgil wondered, "Do you have to be so vocal?"
Elaine's response: "Yes."
And what was Jan doing when the nightmare appeared to be repeating itself? Same thing she always does when games take a frightening turn.
"I dust," she said.
The Shockers held on and the Bradys held onto their tickets to Atlanta. And the nice thing about the timing of the Final Four is it allows for a stress-free week of basking in glory for all four fan bases. For former players such as Brady and Maddox, it allows time to reflect on the good old days and to celebrate today's team. Brady, a three-year (1958-61) WSU starter, began his high school years in Independence and finished in Topeka. Maddox, a two-year starter at end on the football team and a reserve in basketball (1960-63), came to WSU from Enid, Okla.
Not-so-tall tales
They swapped stories about their basketball coach, Ralph Miller, a football, track and basketball star at KU, where he played for Phog Allen, the father of modern basketball coaching. They talked about Miller's heavy smoking, including during halftime speeches. Once, they remembered, he absentmindedly put a cigarette in backwards and nobody heard a word of his talk because they waited for him to light the filter and burst into laughter when he finally did. Another time, after his team lost a game it had led by 19 points, he kicked a chair nearly as far as Bob Knight once threw one.
Both men remembered Knight as sixth man for one of their tougher opponents, an Ohio State team led by Jerry Lucas and John Havlicek, both of whom are enshrined in the Basketball Hall of Fame in Springfield, Mass. Brady had no trouble identifying the greatest player he ever faced, Hall of Famer Oscar Robertson of Cincinnati.
"Full-court pressure was one of Ralph Miller's trademarks," Brady said. "We made a basket. Cincinnati saw the full-court press, Oscar came down, they passed him the ball and I think I must have blinked because he went right around me. He whipped our press all by himself. We called off the press right there and we had practiced such a long time on the press."
In 1961, Maddox received permission to leave the basketball team in the middle of a late-December basketball tournament so that he could play for the football team in a Sun Bowl. The Shockers lost to Villanova, 17-9.
"We had so many guys foul out (in a game he missed) we had to finish the game with four players and we won the game," Maddox said.
After his playing days and before leaving for a one-year tour in Vietnam, Maddox coached high school football and then became an assistant coach at Wichita State, where his roommate was another assistant by the name of Bill Parcells.
"Whether we'd play ping-pong or a one-on-one game of basketball or badminton, he was just real competitive," Maddox said. "We would lay there in our beds at night and play trivia. We'd talk about the New York Giants, the Boston Celtics. And one night he said one of his dreams was to be head coach of the New York Giants. Now his name is up on the Ring of Honor."
Parcells, Maddox said, told him he was the smartest of all of them because he left coaching for a career in business, starting with IBM. Brady pursued a life in ministry and was pastor of First United Methodist Church in Lawrence from 1983 to 1999. Elaine spent all but the final year of Virgil's tenure as pastor coaching the KU spirit squad.
Four Final Four fans
They all will be cheering for the Shockers this weekend, Elaine and Virgil from their Georgia Dome seats, Jan and Jim from their living room. They all praise the in-your-face defense and rugged rebounding that has enabled their school to advance to college basketball's biggest stage.
A quick poll of the four alumni about their favorite Shocker produced three different answers, an indication of how balanced a roster Gregg Marshall coaches. Elaine and Jan voted for senior forward Carl Hall. Jim backed senior lefty point guard Malcolm Armstead. Perhaps seeing a little of Baker in himself, Virgil gave the nod to freshman guard Ron Baker of Scott City, a fellow smalltown Kansas boy who didn't draw the attention of college basketball's heavyweight programs, playing for a lightweight with a puncher's chance of prevailing in the Final Four.
So many college basketball fans without a horse in the race will be watching with fingers crossed, hoping the Shockers have two more upsets the magnitude of Gonzaga and Ohio State in them. Everybody loves the underdog.
Copyright 2018 The Lawrence Journal-World. All rights reserved. This material may not be published, broadcast, rewritten or redistributed. We strive to uphold our values for every story published.