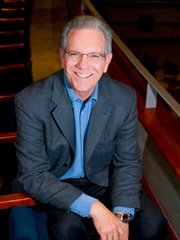 Contact KU and higher ed reporter Sara Shepherd
Have a tip or story idea?
---
More stories
Tim Van Leer has watched over performances by some international luminaries during his time at Kansas University's Lied Center. But what matters more to him as he prepares to retire is what the center means to Lawrence.
"The joy and the pride that the community takes in the events that we have to offer, and the venue this provides the community, is what I take a great deal of pride in," Van Leer said Friday.
Van Leer announced this week that he'll retire at the end of 2013 from his position as executive director of the Lied Center, after 12 years there and a 43-year career as a performing-arts presenter around the country.
He took the Lied Center helm in 2001, coming from El Camino College in Torrance, Calif. But he happened to be present at its beginning.
A friend of Jackie Davis, the Lied Center's first leader, he attended the center's grand opening in 1993. And though he enjoyed the performance of "The Secret Garden," he didn't imagine he'd end up back there about nine years later as executive director, he said.
During his tenure, he has overseen performances by Yo-Yo Ma, the Royal Philharmonic Orchestra and Ravi Shankar, among many others.
But in addition to helping to provide those shows presented by the Lied Center, he said he's been proud to play a role in making the center a unique venue available for all the other Lawrence and KU groups that use it.
"It's not that I started this whole thing," Van Leer said, "but it's been a pleasure for me to continue the vitality and aspects of what the Lied Center offers to the community."
Van Leer, 66, will be 67 when he retires at the end of the year. He and his wife plan to continue living in Lawrence, he said, and he's looking forward to spending time with their three grandsons and with his mother. And he noted another bonus of retirement: He won't have to wake up as early as he has for the past 43 years.
Copyright 2018 The Lawrence Journal-World. All rights reserved. This material may not be published, broadcast, rewritten or redistributed. We strive to uphold our values for every story published.