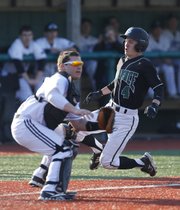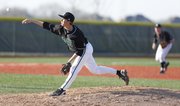 Every year, Free State High baseball coach Mike Hill puts an emphasis on bunting, believing that it can make the difference between winning and losing in close games.
The Firebirds proved that small ball could win them one Thursday, when a pair of bunts helped push across the winning run in a 4-3 home victory over Olathe Northwest.
"Being able to get runners over was critical," Hill said. "It changes the dynamics from their pitching perspective, from their defensive perspective. It all goes back to the ability to bunt."
With the teams tied at 3 in the bottom of the sixth, Free State's Joel Spain led off with a single before Anthony Miele was asked to bunt. The sacrifice was executed so well that Miele ended up on first with an infield single.
"Our kids have been terrific so far in practice and even the opportunities they've had in games to (bunt)," Hill said.
Joe Dineen followed with his own bunt, which moved the runners to second and third.
Spain later scored on a wild pitch for the go-ahead run.
Sam Hearnen took care of the rest, getting a groundout to second, a strikeout and a comebacker to the mound for a 1-2-3 top of the seventh.
Hill was especially pleased with his team's approach after falling behind 2-0 in the top of the first. Coming into the game, the Firebirds had just trailed for one-half inning in their first five games.
FSHS tied it in the bottom of the third, when Cooper Karlin singled, then Spain doubled, with Karlin advancing home on an error. Miele later delivered a sacrifice fly to score Karlin.
"It was good to fight back," Spain said, "and know we can do that."
Northwest retook the lead with a run in the top of the fourth, but FSHS answered in the bottom of the frame.
Dane McCullough led off with a double, then with one out, Karlin knocked a line-drive single to left to score him.
"You're going to make mistakes. It's part of the game," Hill said. "How you handle it is what the challenge is, and I thought they responded to that well."
Hearnen picked up the win in relief, allowing just two hits and one run in five innings while striking out six.
Spain, Miele and Karlin paced Free State's offense, with two hits apiece.
The Firebirds (6-0) will play host to Shawnee Mission West at 5:30 p.m. Tuesday.
Free State 4, Olathe Northwest 3
Olathe NW 200 100 0 — 3 4 2
Free State 002 101 x — 4 8 1
W — Sam Hearnen. L — Austin Hansen.
2B — Joel Spain, FSHS; Dane McCullough, FSHS.
FSHS highlights — Joel Spain 2-for-4, R; Anthony Miele 2-for-3, RBI; Cooper Karlin 2-for-3, R, RBI; Dane McCullough 1-for-2, BB, R; Sam Hearnen 5 IP, 2 H, ER, 2 BB, 6 K.
Copyright 2018 The Lawrence Journal-World. All rights reserved. This material may not be published, broadcast, rewritten or redistributed. We strive to uphold our values for every story published.