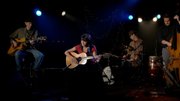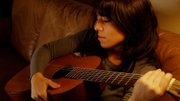 If you go
The Lawrence Arts Center, 940 New Hampshire St., will host a free screening of the short film "Esta Guitarra Vieja (This Old Guitar)" at 3 p.m. Sunday. It is open to the public. A talkback and refreshments will follow the screening.
Pedro Irigonegaray immigrated to the U.S. from Cuba in the early 1960s, eventually becoming a successful lawyer in Topeka. But he never forgot about that old guitar.
His story is the inspiration for a short film written and directed by Lawrence resident Stephen Lerner. "Esta Guitarra Vieja (This Old Guitar)" premieres at the Lawrence Arts Center, 940 New Hampshire St., at 3 p.m. Sunday. Admission is free.
Irigonegaray and his mother, Maria, came to America in the early 1960s. The musical instrument was one of the few possessions they brought with.
"I remember sitting around on sandy beaches with my mom playing that guitar and singing with friends. It was a very pleasant and wonderful environment," Pedro recalled of his time growing up in Havana. "Then it was gone."
After arriving in Florida, Maria sent Pedro to live with her brother in the Midwest while she stayed behind to get her husband and daughters out of Cuba. Maria's brother later found her a job as a pharmacist at the Kansas Neurological Institute in Topeka.
When their belongings arrived in Kansas, the Irigonegarays were devastated to find that the guitar had been shattered, the result of being placed in the plane's unpressurized cargo hold. Pedro's civil-engineer father, Luis, and his friend, a surgeon, tried their best to stitch it back together.
"The guitar, after that, never really sang. It almost cried as it played," Pedro explained. "But it was the best we had. That guitar brought our families together. With it we shared wonderful, wonderful moments."
Maria later obtained a new guitar, but Pedro never got rid of the old one, carrying it with him from place to place over many years.
At a party in the early 1990s, Pedro told Lerner the story of the instrument. Lerner said he knew of a guitar maker who might be able to repair it. He was right. That Christmas, together with his sisters and father, Pedro presented his mother with the renovated guitar, a symbol of her previous life she assumed was long gone.
"It was quite an emotional experience," Pedro recalled.
The 65-year-old said the instrument is symbolic of his own journey.
"The guitar, for me, is a story about courage. It's a story about survival. It's a story about tenacity, the willingness to push through, and redemption," he said.
"This Old Guitar"
"Esta Guitarra Vieja" tells the tale of Marina, a singer-songwriter trying to reconnect with her past through a guitar her dad sent with her and her mother when they immigrated to the U.S. He stayed behind in Havana and later died, so the instrument is all Marina has to remember him by. She dreams about him and eventually channels his spirit into writing the song the movie is named after.
Lerner said the 14-minute film is "about what echoes inside the old guitar. What melodies does the guitar remember? It's an inanimate object that comes with the country you came from, that comes with a lot of the culture you left behind."
For Lerner, that memento is a samovar, a metal container used to brew tea in Russia that has served as an heirloom in his family. The 69-year-old's mom and dad were first-generation Americans, with his grandparents all having spent their lives in eastern Europe.
Stephanie Zuluaga, who plays the role of Marina, can relate to her character. Her parents immigrated to the U.S. from Colombia, and she said that, as a result of growing up largely in America, she often felt disconnected from her ancestral homeland. The message of the film, she said, is of an "identity lost."
"For this generation of the children of these immigrants, you don't just have to be American. You can got back into your roots and be proud of who you are. You can represent your past as well as your future in America," said Zuluaga, a 24-year-old opera singer from Overland Park, making her film debut in "Esta Guitarra Vieja."
Greg Allen, the film's 65-year-old music director, said even he, someone whose family has been in America for generations, can relate to the movie's message.
"I think it's pretty universal," said the Lawrence resident, who co-wrote the song "This Old Guitar" with Lerner in 2004. "It's a story of somebody who came from somewhere and is trying to figure out where they're from."
Lerner, who started filming in October, said it doesn't feel like he's left his production studio in months. The psychologist-by-trade has previously made educational and training films, as well as a documentary about Florence, Kan. He plans to enter the movie in various festivals, both in the U.S. and abroad, with a Spanish-language version. The movie was shot mainly in Lawrence, at such locations as The Bottleneck, Poehler Loft Apartments, 715 Restaurant and Mass Street Music.
Sadly, Maria Irigonegaray won't get to see the film she helped inspire. She died last month in her hometown of Miami. Before the 89-year-old's death, Pedro told her about "Esta Guitarra Vieja."
"She was very happy that it was going on," he said.
Pedro is also working on a children's book about the old guitar. The instrument, he said, remains in Florida.
Copyright 2018 The Lawrence Journal-World. All rights reserved. This material may not be published, broadcast, rewritten or redistributed. We strive to uphold our values for every story published.