Lawrence High School senior Lauren Pauls set an all-time school record Saturday, earning the most career National Forensics League points for speech and debate competition.
Pauls, daughter of John and Susan Pauls of Lawrence, placed in three events at the Shawnee Mission West Viking Invitational tournament, bringing her to 1,982 NFL points with three weeks remaining in the regular season.
"Lauren is the kind of competitor and student that coaches dream about," LHS coach Jeff Plinsky said. "She is motivated, talented, an academic all-American, a squad leader, and also a fantastic human being."
"The LHS records I have extend back into the 1930's, and she is now the all-time points leader. If that isn't special, I don't know what else you can call it."
The previous record of 1,933 was set by Brandon Schwager, class of 2007.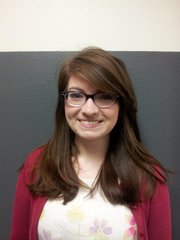 According to league officials, Pauls now ranks 139th nationally on the all-time point list for students. First place on that list is currently held by Allison McKibban, a senior at El Dorado High School in Kansas, who has 4,171 points.
Pauls took second place in informative speaking and third place in original oratory, two events for which she has already qualified to the state 6A tournament in May. She also placed fourth in congressional debate - House.
Overall, the Lions forensics team finished third in the sweepstakes competition at Shawnee Mission West. Sophomore Hayley Luna won first place in foreign extemporaneous speaking, qualifying her for the state tournament. Sophomore Clara Cobb won first place in humorous interpretation.
Pauls and Cobb will be among 13 students Lawrence High sends to the national qualifying tournament in congressional debate this weekend at Bishop Miege High School in Johnson County. Last year Pauls qualified for the national tournament in Indianapolis in that event.
Free State High School also competed at the Shawnee Mission West tournament. Sophomores Adam Strathman and Parker Hopkins won first place in public forum debate. Senior Katie Conrad took first in congressional debate - House.
Copyright 2017 The Lawrence Journal-World. All rights reserved. This material may not be published, broadcast, rewritten or redistributed. We strive to uphold our values for every story published.