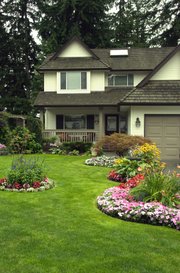 If you're not happy with your yard, it might be time to start thinking about a landscaping project.
Even a small addition, such as placing small trees in a colorful ceramic pot near an entryway can add color and design to your home.
Getting started
According to Laurel Sears, a designer at Lawrence Landscape, lawrencelandscape.com, it is best to start small. She said the first step to improving a yard is to take a look at what you already have and write down the things you do not like.
Here are a few cheap and easy tips that will give your yard more design and fresh color:
Re-mulch everything
Cut new flower bed lines
Add potted plants
An herb garden is perfect for starters and for people who live in small areas, Sears said. For example, if you only have a balcony, you can keep herbs.
Be sure to research how many hours of sunlight the plants you choose need. Herb gardens grow under many conditions, they smell good and you can easily spice up a meal with convenient fresh spices.

If you're looking to add something more to your yard, such as a tree or a few shrubs, make sure to research the installation thoroughly. Trees will die if they are not planted correctly.
For bigger landscaping projects, such as rock walls, patios, ponds and more, it is better to leave it to the professionals. Many things can go wrong, including injuries.
Sears said a common mistake people run into is causing drainage problems in their yards.
Experts
To find plants or to start a garden, the best place to go is a nursery. The professionals there can coach you on how to properly plant and care for new additions.
Research the businesses before choosing a landscaping company or designer. Check out their previous experience and work samples.
Local nurseries and landscapers
Sunrise Garden Center, LLC, 1501 Learnard Ave.
Earl May Nursery and Garden Center, 3200 Iowa St.
Clinton Parkway Nursery, 4900 Clinton Parkway
Pine Family Landscape Center, 1783 E. 1500 Road
Parker Landscape, 841 Pennsylvania St.
For more options, search LawrenceMarketplace.com.
Copyright 2018 The Lawrence Journal-World. All rights reserved. This material may not be published, broadcast, rewritten or redistributed. We strive to uphold our values for every story published.