So long and springy, so agile and precise in her movements. To watch Kansas University senior Tayler Tolefree play volleyball is to come away with the impression that she has ideal physical attributes for the sport. To interview her is to realize that her mind trumps all as her greatest asset.
The NCAA, which airs commercials about winners it sends into the world, could not find a better face to put to the message than that of Tolefree, a Lawrence High graduate. All-Academic Big 12 as a sophomore and junior, Tolefree intends to follow her sister Sydnei's winning footsteps to medical school.
Meeting the requirements placed on Division I athletes presents a stiff challenge even without a rigorous academic path. Tolefree majors in human biology. Her toughest class so far?
"Mammalian physiology," she said.
Oh. As in mammals?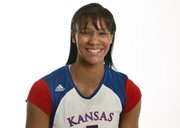 "Yes, but it was more of a human focus," Tolefree said. "We went through every single body system. What does what? How does it work? What happens if this goes wrong? It was really complicated, but it was really interesting. I enjoyed it."
Her impressive timing on jumps at the net for blocks and kills is matched by her ability to manage time.
"It's helpful we have a one-semester sport, so we pack in the hours in spring, and we all take summer school," she said. "You have to really know what you want to do, and volleyball and school are what I want to do, so that's what I spend my time doing. It's all we do. It's tough, but it's what we want to do."
She knows the required steps to meet her post-volleyball goal and already has taken the MCAT.
"You have to do some shadowing, make sure you know what you're getting into," she said. "They look at your overall GPA and your science-classes GPA. They look at community service. They make sure you know what's going on in the medical world, the whole nationalized health care, all that kind of stuff. You submit your résumé. You get letters of recommendation, and you're either invited to an interview or you're not. Hopefully, I'll get an interview and make an impression."
At that point, mental dexterity means everything, which isn't so different from sports, Tolefree indicated, using the word "mentality" to describe the biggest difference in this year's volleyball team, on the brink of cracking the Top 25.
"Can you come back against a team? Can you handle the little things? This is the strongest mentality we've had," she said. "We're more self-driven than any team I've been on."
Hers is a good lead to follow.
Copyright 2018 The Lawrence Journal-World. All rights reserved. This material may not be published, broadcast, rewritten or redistributed. We strive to uphold our values for every story published.