Dr. Dan Ranjbar
4828 Quail Crest Place
ranjbarorthodontics.com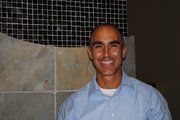 When you walk in Dr. Dan Ranjbar's office, you are greeted by a 7-year-old golden retriever named Sunny, who loves attention. It's just one of the ways Ranjbar tries to make his patients feel comfortable. He's also incorporated his love of nature into the office design.
As a child, Ranjbar lived in several places overseas, including Africa, Iran and India, and then moved with his family to Ohio, where he attended high school. He received his dental degree from the University of Missouri-Kansas City.
Ranjbar has been practicing in Lawrence for 18 years. He said his treatment philosophy is based on two simple principles: use the latest technology to tailor smiles to the patient rather than creating a "picket fence of straight teeth," and treat everyone as a friend or family member.
Ranjbar describes himself as fortunate to have the ability to serve his community in ways that provide a reciprocal benefit.
Being able to help someone who might otherwise suffer dental-related social problems is the "greatest gift a profession can offer," he said.
Runners up
l Dr. Brent Wood, Oread Orthodontics
l Dr. Shelly McColm, McColm Orthodontics
Copyright 2018 The Lawrence Journal-World. All rights reserved. This material may not be published, broadcast, rewritten or redistributed. We strive to uphold our values for every story published.