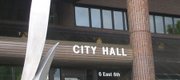 Subscribe to the email edition of Town Talk and we'll deliver you the latest city news and notes every weekday at noon.
News and notes from around town:
• Of all the places in Lawrence that are likely to feel like a bigger city, the intersection of Ninth and New Hampshire may end up topping the list.
As has been well-documented and much discussed, within the next 12 to 18 months the intersection is likely to be home to three multistory buildings including an extended-stay Marriott hotel and downtown's two largest apartment buildings. (I'd better clarify one of the three is already there, of course, with the 901 building. Trust me, I don't want to set off another round of "discussion" about the future of that intersection.)
Well, it now appears the intersection will have a new restaurant that aims to play off that theme as well. David Lewis, a founder and operator of Milton's, Sula Teller, a longtime Lawrence chef, and Billy Pilgrim, a Lawrence marketing executive and Teller's husband, have signed a deal to locate a new restaurant in the bistro-style space on the ground floor of the 901 building.
In case you hadn't noticed, there is a space containing about 1,200 square foot in the northwest corner of the building. The space, which is adjacent to The Summit fitness club, also has a large patio that will allow people to gaze upon Ninth Street and the intersection of Ninth and Mass.
The restaurant aims to be a real hub for the downtown neighborhood. Plans call for the restaurant to be open from 7 a.m. to 11 p.m., which means it will serve breakfast, lunch and dinner. And, yes, this is Lawrence, so rest assured the restaurant hasn't forgotten about your whistle either. You'll be able to wet it with craft beers and affordable wines that the group describes as everything from "unsung" to "adventuresome." (I can see myself drinking wine in an Indiana Jones hat very soon. We'll see about the whip.)
As for the menu, Pilgrim used the phrase "city cuisine" to describe it, but said he didn't want people to be left with the impression that it would be haughty or full of unusual ingredients. In fact, part of it will be very simple, as in an old-fashioned to-go case. Pilgrim said the to-go cases are common in many downtown cities so that workers can grab a well-prepared meal to take back to the office.
"There are really not that many places where you can just gather and go in downtown Lawrence," Pilgrim said.
Teller — who was a founder of Milton's with Lewis and then went on to gain a following as a pastry chef with the former downtown restaurant Prairie Fire — said the menu will be seasonal and will work to use as many local ingredients as possible.
Plans call for the new restaurant to open by the end of November. But first, the group needs to come up with a name for the restaurant. Pilgrim said that should be decided soon. The group currently is finalizing the design of the space, which they describe as having a classic, Euro, neighborhood feel (which I think means an Indiana Jones hat will work fine.)
• The 901 building is owned by a group led by Lawrence businessman Doug Compton. I saw Compton at lunch recently, and he told me the tentative plans are for construction to begin on the new multi-story hotel building at the southeast corner of Ninth and New Hampshire in November. He said work on the recently approved seven-story, 121-unit apartment building at the northeast corner of the intersection could begin in March.
"It is going to get busy down there," Compton said.
That is probably a good description for all of downtown. I still expect construction on the expanded Lawrence Public Library, or at least the parking garage portion of the project, to begin before the end of the year. In fact, I think city commissioners will begin formally requesting bids for some of the early parts of the project as soon as next week.
With Compton's two projects and the library, I'm guessing there will be around $60 million worth of construction work underway in downtown Lawrence at one time. (Don't forget, Treanor Architects already is underway with a project to build its new headquarters near 11th and Vermont.) I'm not sure there's ever been a time when so much construction has happened at once in downtown.
There will be at least one more interesting development to watch at the Ninth and New Hampshire intersection. The hotel project includes what will be downtown's first rooftop restaurant. No word yet on what type of restaurant that may end up attracting.
UPDATE: This just in, the planned hotel building at the southeast corner of Ninth and New Hampshire no longer is planned to have a rooftop restaurant. The development group this morning forwarded me a letter it recently sent to City Hall detailing several changes they are making in the final design of the project. None of the changes will alter the height or size of the building in any way. Here's a summary of the proposed changes:
— The top floor of the hotel now will house three condo units instead of the rooftop restaurant.
— The hotel building no longer will include any apartments,and as such the number of hotel rooms will increase from 81 units to 92 units.
— The rooftop pool of the hotel will be moved to an enclosed area on the first floor.
— Since the main floor lobby no longer will need to accommodate an entrance to rooftop restaurant, the developers are proposing to expand the ground floor retail space by 400 square feet.
The letter also notes that the 121-unit, seven-story apartment building on the northeast corner is being designed with a rooftop pool to serve those residents.
I don't believe any of the design changes will require approvals from city commissioners or the Planning Commission. I'll believe they'll be considered minor enough changes that they can be approved administratively. If hear different, I'll pass it along.
The changes should be popular with downtown leaders, who I believe would rather see more people living in downtown rather than another restaurant.
• With all that construction in downtown, your head may be going back and forth. Well, you'll have a chance this weekend to get it in practice at The Toy Store in Downtown Lawrence.
The professional yo-yo team with Duncan yo-yo will be providing demonstrations from noon to 2 p.m. Sunday at The Toy Store, 936 Mass.
I saw the group the last time it was in town, and it was jaw-dropping. (Which ended up being not so good. I think I busted two teeth and three windows trying to replicate the tricks later that day.)
The Duncan team travels all over the country providing demonstrations and instruction.
• That will be a wrap for Town Talk this week. I'll be off Friday and Monday to practice yo-yo tricks that involve an Indiana Jones hat, a whip and a bottle of wine.
Copyright 2018 The Lawrence Journal-World. All rights reserved. This material may not be published, broadcast, rewritten or redistributed. We strive to uphold our values for every story published.