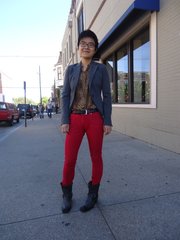 Age: 27
Relationship status: Single
Hometown: Wuhan, China
Time in Lawrence: Five years
Occupation: Student
Dream job: Chef, scientist, fashion designer
What were you doing when scouted? Waiting for a friend
Describe your style: Eclectic. I throw in a little bit of everything and mix and match. Punk influences.
Fashion trends you love: Vintage, the way some feminine gay men dress
Fashion trends you hate: Thoughtless dressing
Fashion influences: Sarica Douglas. She's from KC and in the band Lazy
What would you like to see more of in Lawrence? People paying more attention to the way they dress.
Less of? The look that fraternity boys wear: the pastel shorts and shirts. And please, no more beige!
Tattoos or piercings? Not anymore
Who do people say you look like? I'm trying to make myself an icon. I hope that's not too arrogant.
Tell us a secret … I like to steal others' styles
Copyright 2018 The Lawrence Journal-World. All rights reserved. This material may not be published, broadcast, rewritten or redistributed. We strive to uphold our values for every story published.