If you're going to have a thriving arts community, you need more than talented people and spacious galleries, you need studio space.
That is where John Hachmeister, an associate professor of sculpture at Kansas University, comes in. Hachmeister has been supportive of artists, and committed to bringing art into communities for years, first with the formation of Garden of Eden, Inc., which made the preservation of Samuel Dinsmoor's concrete wonder in Lucas possible, and then as a Board Member of the Arts Incubator in Kansas City, Mo., which helped rejuvenate the Crossroads Arts District.
Hachmeister has now turned his attention to the East Lawrence arts community. Last year he purchased a muffler shop at 313 E. Eighth Street and has actively overseen its conversion into a workspace for artists.
"It's hard to find a space quite like this," says Nick Kral, a stop motion animator and occupant of 313. "There is office space, but this is an area that can be turned into whatever you need it to be."
Right now, Kral is using his space for the creation of more film shorts starring the curmudgeonly "Movie Monkey," who has already gained some notoriety in Hollywood for his appearance on the Blu-ray version of "Dr. Horrible's Sing-A-Long Blog," the 2008 award-winning musical starring Neil Patrick Harris.
Visitors who stop by 313 Friday night will be able to see some of Kral's films, including those starring "The Movie Monkey," to whom Kral refers as a sort of "simian Andy Rooney."
"There has been a thirst for a place like this," he says, "a place that can work for artists and is economical."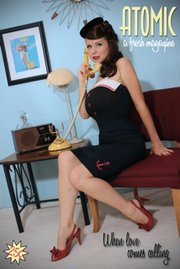 "It makes me happy to be here," says photographer Racheal Major owner of "Atomic Photography," another artist/occupant of 313, and who describes her space as "very lounge-y" and "retro."

"The fact that it used to be a mechanic shop is hilarious," she says.
The building's history also seems appropriate for Major's enterprise, which specializes in pin-up photography, and whose full-service operation offers hair styling, make-up, and clothing, along with the images. "I love it when we get military wives who want to do something for their husbands," she says.
"We hope people will stop by 313 on their way from downtown to the galleries in the warehouse district," says Grace Peterson, a ceramic artist and whose studio, Local Color, is in the former muffler shop.
"It's easy to let go of your dreams when you're an artist, but John is so supportive of the community and optimistic about making it a success," she says, adding that it's "wonderful to be around serious artists."
Friday is also the opening of an exhibition at the Watkins Community Museum of History, 1047 Mass., "La Calavera Catrina: Women's Imagery and Day of the Dead" from 6 to 8 p.m. The exhibit features folk art associated with celebrations for the Mexican Day of the Dead on loan from the Spencer Museum of Art. Approximately thirty wood and ceramic pieces will be on display according to museum director, Steve Nowak, "they show a range of the roles that women play in these cultures."

Visitors can take away instructions on how to create their own "Day of the Dead" artwork, which they can bring back to the museum for October's Final Friday.
Wonder Fair, 803 ½ Mass., has its own way to celebrate autumn and the approaching darkness of winter with its version of a Japanese amusement, "100 Ghost Stories." The traditional activity involves 100 lit candles and 100 storytellers, and as each story is told, a candle is extinguished. Wonder Fair has invited 10 artists and 10 storytellers to create their own version of the activity which begins at 6 p.m.
If the exhibits at Watkins Museum and Wonder Far are not scary enough for you, the library will unveil seven winners of the Banned Books Trading Card Activity Project, local art inspired by literature and intellectual freedom. Images of the seven winning works will be available beginning Sunday, Sept. 30 at the library and the Arts Center. It's also KU's annual Campus Art Walk, which includes works from students, faculty and independent artists. The campus walk starts at 2 p.m., and will take you to exhibits at 12 campus buildings.
Copyright 2018 The Lawrence Journal-World. All rights reserved. This material may not be published, broadcast, rewritten or redistributed. We strive to uphold our values for every story published.