City and county crews continue to investigate gasoline detected in the sewers near Schwegler School, 2201 Ousdahl.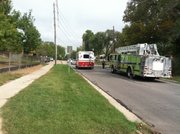 Thursday morning at around 11 a.m., a plumber in the 2200 block of Ousdahl Road detected a gasoline odor while working on a home in the area, and city crews found "high explosive readings" from area sanitary sewer manholes, said Lawrence-Douglas Fire Medical Division Chief Eve Tolefree.
No evacuations were necessary, and negative readings were detected at nearby Schwegler Elementary.
Several roads in the area were closed to traffic, including the 2200 block of Ousdahl Road.
School officials are asking parents picking up students from school to enter the area from north of the school on Ousdahl Road and exit at 22nd Terrace onto Naismith Drive.
Tolefree said they do not know how the gasoline ended up in the sewers. Door hangers with contact information were distributed to homes in the area.
Check back for updates as they become available.
Copyright 2018 The Lawrence Journal-World. All rights reserved. This material may not be published, broadcast, rewritten or redistributed. We strive to uphold our values for every story published.