Taylor Hodge had 15 aces to go with 10 digs, and Bishop Seabury Academy swept University Academy, 3-0, on Tuesday at Seabury.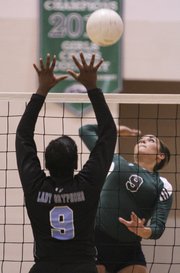 Sarah McDermott had 10 kills and nine assists, Ellen Almanza added eight kills with a kill percentage of .500, and Courtney Hoag contributed six kills and three aces for the Seahawks, who won, 25-14, 25-10 and 25-12.
Meghan McClorey had seven assists, and Maddie McCaffrey added seven digs and three aces for Seabury (11-5).
"Serving was once again our strong suit," Seabury coach Chrissy Leuty said, "and I had five servers with a server rating above a 2.0 (on a scale of to 3), which is pretty remarkable."
The Seahawks will travel Thursday to Topeka Cair Paravel.
Copyright 2018 The Lawrence Journal-World. All rights reserved. This material may not be published, broadcast, rewritten or redistributed. We strive to uphold our values for every story published.