Kansas University's women's golf team continued its dominance of the Marilynn Smith Sunflower Invitational on Tuesday at Alvamar, wrapping up a 21-stroke victory for the Jayhawks' fourth win in eight tries at the event.
Photo Gallery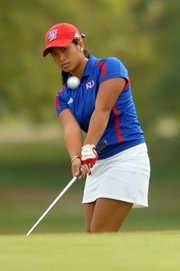 KU women's golf at the 2012 Marilynn Smith Sunflower Invitational
The Jayhawks have won three of the four Smith tourneys in Lawrence and won once in four attempts at Colbert Hills in Manhattan, where the meet is contested every other year.
"This is a special place to us. We definitely had a home-course advantage, so to speak," KU coach Erin O'Neil said. "We know the course real well. We trusted that and played our game and made it happen."
Thanuttra Boonraksasat, Yupaporn Kawinpakorn and Gabby DiMarco finished second, fifth and seventh respectively as KU finished with a 54-hole total of 906 strokes (plus 42). Arkansas State placed second at 927, followed by Kansas State (928), North Dakota State (946), Oral Roberts (947), New Mexico State, Middle Tennessee State and Illinois State (951), Arkansas-Little Rock (953), Wichita State (963), Northern Iowa (966), Florida Gulf Coast (978) and UMKC (979).
KU's Boonraksasat, a junior from Nonthaburi, Thailand, shot a final round 72 to finish eight strokes back of Arkansas State's Abigail Laker, who shot 3-under-par 213.
"My short game has improved a lot from last year," said Boonraksasat, who had rounds of 77-72-72. "I changed my putter, which has helped a lot. I actually wanted to win. I was going for under par, but it's all good. Second is good enough. The team win is what we wanted. It should help our confidence in the next tournament and the next tournament after that."
Laker, a freshman from Oxfordshire, England, had rounds of 74-69-70.
"My driving went well for me today, put me in good position to go for pins," Laker said. "I hit my irons well to get it close.
"The course is in great condition," she added. "You could never ask for better greens. It was immaculate, really."
KU's Audrey Yowell (81-78-77—236) tied for 18th, while Meghan Potee (79-78-80—237) tied for 22nd. Other KU results: Ann-Kathrin Wuensch, tie 35th, 85-79-77—241; Michelle Woods, tie 45th, 82-80-82—244; Mackenzie Thayer, tie 57th, 83-83-83—249; Carly Humes, tie 73rd, 96-91-86—273.
KU, which won its first team title since the Rio Verde Invitational last March, will next compete at the Susie Maxwell Berning Classic, Oct. 15-17 in Norman, Okla.
"I'm very encouraged," O'Neil said. "This is the team I've known is there. It's very encouraging to see the hard work they've been putting into it pay off."
Copyright 2018 The Lawrence Journal-World. All rights reserved. This material may not be published, broadcast, rewritten or redistributed. We strive to uphold our values for every story published.