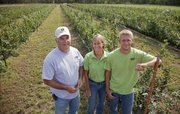 The Kaw Valley Farm Tour operates on a simple concept: It's a self-guided tour that gives you a chance to meet people who have dedicated their lives to producing food, fiber and plants for the rest of us to enjoy.
The tour is all about the experience — hayrack rides, picking apples, climbing giant bales of hay and getting up-close and personal with alpacas, cows, pigs and goats, if you choose.
Twenty-two area farms are participating in this year's eighth annual tour, meaning that they are opening their doors to you from 10 a.m. to 6 p.m. Oct. 6 and 7. The farmers (and their families and friends) will be on hand to talk about their farm practices and help you get to know a little about farm life.
2012 participating farms
• Ad Astra Alpacas
• Amy's Meats
• Blossom Trail Bee Ranch
• BlueJacket Crossing Vineyard & Winery
• Crum's Heirlooms
• Davenport Orchards, Vineyard & Winery
• Fieldstone Orchard & Farm
• Gieringers Orchard
• Holy-Field Vineyard & Winery
• Iwig Family Dairy
• Juniper Hill Farms
• K-State Research & Extension­Olathe Research Center
• Knapp Family Farms
• Lamborn Farm
• Landeria Farm
• LLI Tree Farm
• Pendleton's Country Market
• Schwinn Produce Farm
• Screamin' Oaks Farm
• Vertacnik Orchard
• Vesecky Family Farms
• White Tail Run Winery
Gieringers Orchard, 39675 W. 183rd St., Edgerton, is a tour stop for the first time this year. Frank and Melanie Gieringer, and their son, Brice Wiswell, who own and operate the orchard, will be giving tours of their 1,000-plus peach trees, pick-your-own blackberries and just-planted strawberry field that will be open for picking your own next spring. The strawberry field contains just over 16,000 plants.
Gieringers Orchard also produces tomatoes and sweet corn that are done for this year, but visitors likely will be able to see the last of the pepper plants growing in one of the family's four high tunnels.
Frank says he grew up as a "city boy" but liked working outside and wanted to farm. He started out raising pigs, expanded to corn and soybeans, then planted peach trees in 2001.
"We moved around a lot when I was a kid, so we never had any trees of any size," Frank says. "I always wanted to live somewhere where I could have a few around, and fruit trees fascinated me for some reason."
The Gieringers have tried to add something new to their production each year, which has led to the other produce. They sell their fruit and vegetables at the Olathe and Overland Park Farmers' Markets and from their on-farm store during the summer. They also come to the Lawrence Farmers' Market with their peaches when the fruit is in season.
The Gieringers say they see a lot of grandparents coming out with grandchildren during pick-your-own season, and they like the idea of being able to re-introduce children to something so important to our existence. Their son, Wiswell, also has a great appreciation for what the farm life has to offer and quit his "city" job this year to manage the farm with his parents.
"I worked for a drafting and design company, but I was always thinking about what I should be doing out on the farm," says Wiswell. "I didn't like it as a kid, but when I got older I realized what I really had."
Just up the road from Gieringers is another newcomer to the Kaw Valley Farm Tour: White Tail Run Winery, 2327 N. 400 Road, Edgerton. White Tail's owner, Dan Fuller, makes wine produced from grapes grown on his farm and will be giving tours of the vineyard during the farm tour.
"We'll have the vineyard equipment out and walk through the vineyard so people can see how we prune and train the grapes and why," Fuller says.
Visitors will also learn about the winemaking process and can visit the tasting room, which just opened this summer.
Fuller says he had dreamed of having a vineyard for years and was finally able to fulfill his wish after retirement. His first grapevines were planted in 2003, but abundant deer in the area (for whom the winery is named) ate the vines until he was able to install a deer fence in 2005. White Tail produced its first wines in 2010 and began selling through liquor stores before building their own tasting room.
Tour tickets are $10 per carload, and the ticket admits your traveling party into all 22 farms for both days of the tour. Most people pick up tickets in advance and select four to five farms to visit over the weekend so they can enjoy each stop. Proceeds from ticket sales cover the cost of ticket printing, signs and other expenses associated with organizing the tour.
Advance tickets for the tour are available at The Merc, 901 Iowa; Lawrence Visitors' Center, 402 N. Second St.; Cottin's Hardware & Rental, 1832 Mass.; K-State Research and Extension—Douglas County, 2110 Harper St.; the Downtown Lawrence Farmers' Market; and online at kawvalleyfarmtour.org. Tickets are also available at all participating farms the weekend of the tour.
The Kaw Valley Farm Tour is a joint initiative of The Merc, Community Mercantile Education Foundation, K-State Research and Extension—Douglas County, Lawrence Convention and Visitors' Bureau and local farmers.
For more information, visit the Kaw Valley Farm Tour website or contact the Lawrence Convention and Visitors' Bureau at 785-856-5282.
Copyright 2017 The Lawrence Journal-World. All rights reserved. This material may not be published, broadcast, rewritten or redistributed. We strive to uphold our values for every story published.