News, et cetera, from schools in and around Douglas County: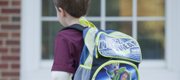 Subscribe to the email edition of First Bell and we'll deliver you the latest local education news and notes every weekday at noon.
• The high schools released their SAT score information Tuesday and I had some fun comparing numbers.
I've posted an interactive chart below.
But looking at those numbers, it's important to remember that only 123 students took the SAT. The official count for seniors is about 730 in both schools.
Interesting tidbits from the numbers to do with what you'd like:
— More girls took the test than boys, but they did worse in reading and math and better at writing in both schools.
— More Free State students (70) took the test than Lawrence High students (53).
— The 50 percentile scores in each subject and for each school were higher than the state and national 50th percentile scores.
• Superintendent Rick Doll spoke to the school board on Monday about the bond issue. One thing I learned is that Gould Evans, the firm working on getting information for the planning process, is using Langston Hughes School as a comparison to Cordley, Hillcrest, Kennedy, New York, Pickney and Sunset Hill.
The staff and board members I've talked to about the bond all point out that their aim to "increase equity" among schools by bringing the older ones more up-to-date.
You can read more about how the bond issue includes facilities ideas in the district goals.
• Those district goals were officially approved on Monday. At that meeting, we also learned more about "AMO" — the new AYP. I'll share a more extensive presentation on those new measurement goals as soon as I get it; it's interesting that it seems quite similar, though perhaps even more complex.
• Know anything that I need to learn? Send news tips, comments or questions to acgarrison@ljworld.com or call 832-6314.
Copyright 2018 The Lawrence Journal-World. All rights reserved. This material may not be published, broadcast, rewritten or redistributed. We strive to uphold our values for every story published.