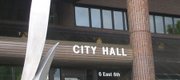 Subscribe to the email edition of Town Talk and we'll deliver you the latest city news and notes every weekday at noon.
News and notes from around town:
• The unique international gift store Ten Thousand Villages is now one big step closer to opening in Downtown Lawrence.
The store has signed a lease to locate at 835 Mass., the former home of Wyldewood Cellars, and hopes to be open by the end of October.
"Everybody has heard for months that we're coming, and they've been excited to hear when and where," said Alicia Erickson, president of the store's board of directors. "We're very happy that we'll be open by the holiday season."
Back in August we reported the 835 Mass. location was a strong possibility for Ten Thousand Villages after word started to leak that Wyldewood likely was going to be leaving the spot.
Wyldewood is officially closed at the Lawrence location — the company remains in business at its other locations across the state — and the building has sold.
A group led by Lawrence businessman Doug Compton has purchased the building, which for years was home to Winfield House home furnishings before it moved into the 600 block of Massachusetts.
Ten Thousand Villages will carry a lot of items for the home, but they'll all have a unique twist. The company only carries items that fit under the Fair Trade idea, which is the concept of selling products at a price that ensures the people who make or grow the products are a paid a fair wage and have safe working conditions.
In addition to home decor items, the store also carries hand-made jewelry, art, chocolate, coffee and other products that you could imagine being made by people of small villages around the world.
The store also is unique in that it is a non-profit business entity. The Lawrence location will be run by an 11-member board of directors. Erickson, who leads the board, said the store will have two paid employees — a manager and an assistant manager. The store plans to recruit 50 to 60 volunteers to staff the store.
"Our other stores have a lot of retired people who volunteer, a lot of college-aged students," said Erickson. "It really ends up being all type of people lend their time as they learn about the mission and the idea of Fair Trade."
It has been a business model that has been successful in many other markets. The organization does more than $20 million in sales and has more than 70 stores across the U.S. The company has a successful store in downtown Overland Park, and it was that store's local board of directors that decided to provide some of its excess earnings as seed capital for a store in Lawrence.
The Lawrence store, from what I've heard, has generated more buzz than any opening in downtown in quite awhile. Other retailers I have talked to in downtown have been thrilled the store is going to have a presence in downtown. The concept seems to be one that fits well with Lawrence's identity. The Lawrence store will be just the fourth one in the state — besides Overland Park, there are stores in Hutchinson and Newton — so the business is expected to have a good regional draw.
If the store indeed carries good chocolate, I know of someone it likely will draw. In fact, if it carries what is called "artisan chocolate," there is a certain someone in my house who I fear will become a very big supporter of the arts.
• From Ten Thousand Villages to like 10,000, hundred, bizillion miles an hour. That is approximately how fast I believe you can download videos, text or buy artisan chocolates online with the new iPhone 5 and the accompanying 4G wireless networks.
As you can probably tell by now, I should pretty much be your go-to-guy for technology-related issues. My wife disputes this, since I only recently have learned how to hook up my VCR without her assistance. But I did tell you a couple weeks ago that the wireless phone companies were paying a lot of attention to Lawrence in preparation of a 4G launch.
Well, Sprint officially announced yesterday that is now offering 4G service in Lawrence. That follows Verizon Wireless, which began offering the service in Lawrence on Sept. 20, according to a statement from the company. AT&T;, according to its Web site, hasn't yet brought the 4G network to Lawrence, although it appears it is in the Kansas City area.
Regardless, the world is destined to speed up in Lawrence very soon. In fact, I'm already seeing it. As everyone stands in line for a iPhone 5, there hardly has been any line at all as I rent my VHS movies.
• The wireless phone companies aren't the only ones trying to get in on the act of providing super-fast communication services.
As we have previously reported, the folks formerly known as Lawrence Freenet — now going by the name Wicked Broadband or its parent company Community Wireless — have begun rolling out 1 gigabit Internet service in parts of Lawrence. That's the super-fast stuff that Google is preparing to roll out in Kansas City. (Sorry to get all technical with you with phrases like "super-fast stuff.")
Well, at the risk of getting really technical — and perhaps really wrong — I have a few details about a plan Community Wireless is now pitching to the city and the county to bring faster Internet service to the downtown Lawrence area.
Community Wireless is asking to have access to four unused strands of fiber that run from City Hall to the Douglas County Courthouse. Combine that with wireless technology that Community Wireless already has atop the tower at the Judicial and Law Enforcement Center, and the company can start providing much faster Internet service than what is commonly available in downtown.
Here's where it gets a bit technical though. The letter from Community Wireless says the project will eventually allow the company to extend 1,000 Mbps service to many homes and business in Lawrence. I believe 1,000 Mbps is the same thing as the much talked about 1 gigabit service that is all the rage with the Google Fiber project. (But this whole system is too much like the metric system, and since I'm not Communist, I refuse to learn the metric system.)
Community Wireless is asking for something in return from the city and the county. The company wants the county to eliminate the approximately $400 per month lease payment Community Wireless pays to locate atop the law enforcement center tower. It wants the city to waive a one-time $9,000 fee Community Wireless is obligated to pay as part of joint fiber cable venture along 23rd Street.
In exchange for dropping those fees, however, Community Wireless is proposing to provide free Internet service to both City Hall and the County Courthouse. Community Wireless is proposing to provide Internet service at 40 Mbps, which is twice as fast as the 20 Mbps service the city and county currently receive. According to Community Wireless, the offer will eliminate about $25,000 a year in payments each government currently makes for Internet service.
City commissioners at their meeting tonight are expected to direct staff members to study the proposal.
• A quick follow up on the sand plant issue we reported on in yesterday's Town Talk. The Lawrence-Douglas County Planning Commission voted to defer making a recommendation on the proposal — which would allow for about a 350-acre sand pit operation between Lawrence and Eudora — until at least its October meeting.
Copyright 2018 The Lawrence Journal-World. All rights reserved. This material may not be published, broadcast, rewritten or redistributed. We strive to uphold our values for every story published.