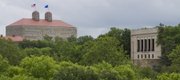 Subscribe to the email edition of Heard on the Hill and we'll deliver you the latest KU news and notes every weekday at noon.
Your daily dose of news, notes and links from around Kansas University.
• If you're a student, faculty member or employee at KU's Lawrence or Edwards campuses, that means you've been notified of a mandatory online sexual harassment training course this fall (It's due Oct. 5, if you haven't taken it yet). While working on a story for today's paper about KU's new office of Institutional Opportunity and Access, which is the source of that training, I used Twitter to ask folks who'd completed the training how they felt about it.
The responses I got were kind of all over the map. One student, @TheRealTPlum, said it was "surprisingly not terrible," with "interesting data and acceptable length." He was seconded by another Twitterer.
Two others said they admired the intentions behind the course, but they questioned its effectiveness. And one person, @LaraJeffery, linked to a blog post from a couple weeks ago in which she accused the university of not taking sexual harassment seriously enough.
Surely this did not constitute a representative sample of the people who'd taken the training — and IOA executive director Jane McQueeny told me about 85 percent of respondents had indicated a positive experience with the course — but it was interesting nonetheless.
If you'd like to be a participant in the next Heard on the Hill Spontaneous Twitter Insta-Poll, make sure to follow @LJW_KU.
• The Register Guard of Eugene, Ore., told the tale Monday of an Oregon 18-year-old whose long-held dream of becoming a KU student this fall was apparently not meant to be.
According to the story, part of a series about the costs of college, Polly Irungu had hoped to be a Jayhawk since attending a program on the campus earlier in her teens, but she opted to stay in Oregon because of costs.
At the University of Oregon in Eugene, where her mother has a job, she was eligible for a full-ride scholarship, and out-of-state tuition at KU would have run her more than $20,000 per year, according to the story.
So count your blessings, Jayhawk devotees who were lucky enough to establish Kansas residence and receive in-state tuition.
• If you have any input you'd like to make about the state of parking at KU, you'll have a chance Wednesday. The KU Parking Commission, a University Senate committee that makes recommendations on parking policies, will have an open forum at 3 p.m. Wednesday in the Olympian Room at the Burge Union.
The meeting will allow people to share comments on the policies, rules and fees of KU Parking and Transit, according to a note from the department.
And in case you can't make it, an online survey is also available that allows you to share your thoughts.
• Please consider merickson@ljworld.com to be a 24-7 public forum allowing you to share your thoughts on anything KU, though tips for Heard on the Hill are especially welcome.
Copyright 2018 The Lawrence Journal-World. All rights reserved. This material may not be published, broadcast, rewritten or redistributed. We strive to uphold our values for every story published.