When do I need a permit?
Finishing basements, adding on rooms, adding decks more than 30 inches above grade, replacing heating and cooling equipment or water heaters, kitchen renovations that change the floorplan and certain kinds of electrical work all require permits, said Lawrence city building official Barry Walthall.
Owners working on their own homes must get permits themselves, he said. Otherwise, hired contractors are responsible for obtaining permits for their work.
Obtaining a permit comes with two city inspections, a rough inspection while the walls are open — to look at heating and air conditioning ducts, electrical wiring and plumbing — and a final inspection.
Done incorrectly, projects such as electrical work or heater replacements can create fire or carbon monoxide hazards, Walthall said. Finishing a basement can introduce other hazards, such as creating a sleeping area without a secondary fire escape route.
"We want to make sure that safety concern is dealt with," he said.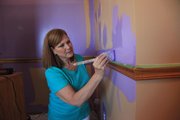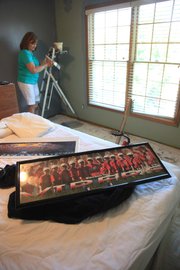 Daydream away. Make a board on Pinterest. Talk about it.
But at some point, you're going to have to translate daydream to real-life plan if you want that kitchen remodel, bedroom spiff-up or sunroom addition to become a reality.
Experts agree that forethought and planning are key to home-improvement projects that run smoothly and create results customers are excited about.
Go! talked to three Lawrence renovation professionals to compile these tips to help solidify your vision, stay on budget and stay safe.
Neil Gaskin is co-owner of Natural Breeze Professional Remodelers, which does mostly residential remodeling and repairs, with projects ranging from basic service calls to costly full-house renovations. Kathy Bechtel owns Color My World Painting and Countertop Resurfacing, which specializes in cosmetic upgrades to walls, cabinets and counters. Barry Walthall is the city's building official.
Vision
Think about your space — what it is and what you want it to be.
"The two questions that we ask the most are, 'What do you like about your current space, and what do you want to change?'" Gaskin said.
Bechtel encourages clients to watch home TV shows, surf the Web, look at magazines and cut out photos. Those creamy looking cabinets with crackly glaze you've had your eye on?
"Everyone interprets that as something different," Bechtel said. "I can't see into their mind, so it's very helpful if they've got pictures."
Don't overlook the surface
Sometimes, all you need to make a big impact is surface-level improvements.
"If you like the layout of your kitchen and your cabinets are functional and in really good shape, there's no point in ripping all that out," Bechtel said, adding that the same goes for countertops. Done professionally, resurfacing can make a dated kitchen or bath look fresh, clean and contemporary, she said.
Painting the walls is another surface-level solution for updating a space.
"Color is the number one thing that will change the look of a room," Bechtel said.
Know your limit
Depending on your comfort level with having part of your home temporarily out of commission, you may not want to tackle multiple rooms at once, Bechtel said.
This also goes for knowing when to hire a contractor instead of doing it yourself. Even cosmetic jobs such as painting can be messy, time-consuming or at times require special tools and skills, Bechtel said. Don't bite off more than you can chew.
Set a budget
The budget window for any given project is broad, so it's important to decide in advance what you want to spend.
For example, Gaskin said his company has finished basements to the tune of $40 per square foot and $120 per square foot. He said some customers are reluctant to broach the budget subject — possibly out of fear of being taken advantage of — but that it's critical to planning.
"For us, it's important to have an honest conversation about that somewhere in the beginning so we know what direction to guide somebody," Gaskin said.
Gaskin and Bechtel also suggest building in a cushion for unexpected costs (more on that later).
Hire a contractor
Gaskin said even though customers rarely ask to see his company's certificate of insurance, he encourages them to take a look. Proof that a contractor has a license to operate in the city, plus references, are other good things to ask for.
Anyone doing contract work in Lawrence beyond cosmetic improvements must be licensed by the city, meaning they've demonstrated they have the proper certification, insurance and training for their respective areas of expertise, Walthall said.
To verify whether a contractor has a license, call Lawrence's Planning and Development Services Department at 832-7700.
"The contractor that has insurance and is licensed is much more likely to be capable of performing the work and less likely to encounter problems," Walthall said.
"The unlicensed contractor? There's probably some reason they would not be licensed."
Stick to the budget (this is where that cushion comes in)
Gaskin cited two major categories that push project over budget once they've been started.
First, unforeseen circumstances. Especially with old houses, some things are impossible to know until the sledgehammers dig in. Gaskin recalled a kitchen remodel in an old Lawrence home where crews discovered the walls were filled with brick and very old wiring. Before getting to the planned renovation, they had to remove all that brick and rewire.
"You just don't know until you open up the walls," he said, noting that he tries to discuss potential problems in advance. "I call it my Superman clause, where I don't have X-ray vision."
Second, changes. Gaskin encourages customers to pick out everything they can — flooring, cabinets, plumbing fixtures, you name it — before work begins. Not only does this step firm up the budget, because those items can vary widely in price, it keeps the project running efficiently because the contractor doesn't have to wait on decisions to be made or products to be ordered.
Keep the peace
Before breaking ground, ensure everyone with a hand in planning and paying for the project — often husbands and wives — is in agreement.
"Get on the same page as early as possible," Gaskin said. "We don't necessarily like to, but we find ourselves playing marriage counselor a little too often. And that's not what I'm good at."
Copyright 2018 The Lawrence Journal-World. All rights reserved. This material may not be published, broadcast, rewritten or redistributed. We strive to uphold our values for every story published.