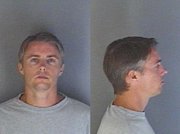 The man responsible for a head-on collision Sept. 7 near the intersection of Ninth and Maine streets has at least three prior drunken driving convictions, according to a police report about the accident.
Justin M. Crawford, a 39-year-old Lawrence man, ran through the red light at Ninth Street while driving south on Maine at about 2:15 p.m. Crawford's car then hit another car, driven by Jean M. Drumm, a 67-year-old Lawrence woman. Lin L. Stearns, a 49-year-old Lawrence woman, was in the car with Drumm.
A criminal police report, filed in addition to the accident report, lists "driving under the influence; 4th or subsequent conviction," under offenses committed during the accident. Aggravated battery, caused by reckless behavior, also is listed.
Crawford hasn't been charged in Douglas County for either crime, but investigators have sent blood samples to the Kansas Bureau of Investigation for substance testing. The process can take several weeks, said Lawrence Police Sgt. Trent McKinley. They'll wait for results before issuing citations, he said, and evidence will go to the district attorney's office for consideration of charges.
Both Crawford and Drumm had to be extricated from the cars after the collision, and both were hospitalized.
Witness statements estimated Crawford's speed as being in excess of 60 mph as he ran through the red light at Ninth Street, according to the accident report. When the collision occurred, Crawford was driving on the wrong side of Maine Street.
"Before I could breathe, it hit me head on," said Drumm in the accident report.
A criminal background report through the state of Kansas shows two drunken driving convictions for Crawford — one in 1999 in Topeka, as well as one in 2001, also in Topeka. Crawford was also convicted in 1999 of refusing a breath test during a traffic stop in Topeka.
A search through Shawnee County court records shows a 2006 conviction for "DUI: 3rd or subsequent conviction." Crawford pleaded no contest in that case, and a charge of "Driving wrong direction on one-way road" was dismissed. Crawford served two years probation and paid more than $2,000 in fines in that case.
Copyright 2018 The Lawrence Journal-World. All rights reserved. This material may not be published, broadcast, rewritten or redistributed. We strive to uphold our values for every story published.