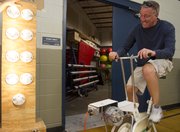 Brad Allen likes hybrid cars. But he had never driven fully-electric car until Saturday.
Allen, the director of the Lawrence Public Library, test-drove a purple Mitsubishi i-MiEV with a range of about 60 miles and "some definite get-up-and-go" during an annual energy fair set up by the city and local businesses.
"It was a smooth ride — I felt like it could get some zip," he said.
Many went to the fair at Holcom Park to get practical information about energy conservation for their homes; events included a three-hour workshop on the topic and a bus tour of local homes retrofitted with technology supporting renewables and conservation.
The fair has previously been held downtown but, despite the venue shift, drew about the same number of people.
Veeral Bhatt and Katie Frankhauser, both Kansas University chemical engineering students, were there to raise funds and awareness for their on-campus biofuel production group. Bhatt explained that he's working on further refining the process for the waste cooking oil the group gets free from KU Dining. The hope is to turn a byproduct of processing that oil into fuel into a base for cleaning products — meaning more chemical recycling and a potential profit for the group.
Frankhauser put it this way: "We just want to contribute to recycling and renewable energy. That's the goal."
Copyright 2018 The Lawrence Journal-World. All rights reserved. This material may not be published, broadcast, rewritten or redistributed. We strive to uphold our values for every story published.