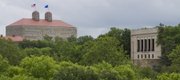 Subscribe to the email edition of Heard on the Hill and we'll deliver you the latest KU news and notes every weekday at noon.
Your daily dose of news, notes and links from around Kansas University.
• KU political science professor Burdett Loomis, whom you'll often see quoted in stories on politics in area media outlets, made an appearance in an entry on The New York Times' FiveThirtyEight blog this week.
That blog is the home of Nate Silver, a former baseball number-cruncher who took his number-crunchiness to the world of election forecasting.
In the entry, "The End of a Kansas Tradition: Moderation," part of a series examining the politics of all 50 states, Loomis weighs in on Kansas' conservative political shift over the last 20 years, as well as which Kansas county has established itself as a political bellwether. Academics from Kansas State University and Wichita State University share their thoughts as well.
• The top-ranked KU special-education department has received a $250,000 grant from the U.S. Department of Education, the USDE announced Thursday.
The award will go toward preparing graduate students to be early-childhood special-education researchers.
It's part of a program designed to develop faculty members and supervisors for people who serve young children with disabilities.
Though the department has won grants from this particular program a number of times before, it was still a feat to win one this year, said Elizabeth Kozleski, the KU department's chairwoman. The USDE received 96 applications but awarded only 13 grants, totaling $3.1 million.
"This year was particularly suspenseful," Kozleski said.
• We'll end on a sad note: The Watkins Memorial Health Center at KU will be closed this morning so the staff can attend the funeral of their former colleague Patricia Denning.
Student Health Services and Counseling and Psychological Services will be closed from 8 a.m. to noon, though Testing Services will stay open. Any students who need immediate medical attention should call 911 or visit Lawrence Memorial Hospital.
Denning died after she was struck by a train in east Lawrence earlier this week.
She was a physician at Watkins for 23 years, and she was a force behind a lot of projects both there and at LMH. People who knew her had many nice things to say about her in a Journal-World story earlier this week.
• Please, feel no need to show any moderation in sending tips for Heard on the Hill my way at merickson@ljworld.com.
Copyright 2018 The Lawrence Journal-World. All rights reserved. This material may not be published, broadcast, rewritten or redistributed. We strive to uphold our values for every story published.