Mark Potts, a veteran journalist who has been a leader in the field of online news, on Wednesday was named vice president of content at The World Company, publisher of the Lawrence Journal-World and other newspapers.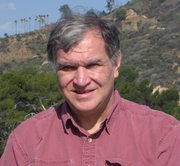 Potts, who cofounded The Washington Post's online efforts 20 years ago and has gone on to be a digital-news entrepreneur, consultant, blogger and educator, will begin in his position on Oct. 1, overseeing the Journal-World's print and online news operations.
"Mark is deeply committed to the future of news," said Suzanne Schlicht, chief operating officer of The World Company. "He is nationally known for this commitment and his work. He is visionary and collaborative and shares our goal of being of utmost relevance in the lives of the people of Lawrence and Northeast Kansas."
"I'm excited to be moving to Lawrence to lead this superb newsroom and become part of The World Company's efforts to provide news and information to audiences in any form they wish to receive it," Potts said. "Readers today want news in print, online, via their smartphones, through social networks and in many other formats. We need to provide them with high-quality, comprehensive reporting on what's going on in Lawrence by any means possible."
Potts, 55, was a longtime journalist at the Associated Press, Chicago Tribune, San Francisco Examiner and Washington Post when he created an early electronic newspaper prototype for the Post in 1992. "I pretty much had a new job the next day, helping the Post think about the future," he said.
"And this was before anybody knew about the Web." At the Post, Potts oversaw research and development partnerships with the likes of Apple, IBM and Microsoft. Those efforts led to the founding of WashingtonPost.com, now one of the world's most popular and respected news Web sites, in 1996.
More recently, Potts has been a strategic and business consultant for numerous Silicon Valley and media companies, and was cofounder of Backfence, one of the first companies to attempt to build a network of "hyperlocal" news sites. "When we started Backfence in 2005, one of the sites we looked closely to as a model for innovative local coverage was Lawrence.com," Potts said. "Even then I was aware of the pioneering work The World Company was doing in exploring the future of news coverage and delivery."
In addition to his entrepreneurial and consulting work, Potts has also taught media entrepreneurship at the University of Maryland. "I believe it's vital to expand journalism education into areas such as innovation, entrepreneurship and product development," Potts said. "I'm hoping that we can engage the KU Journalism School in some interesting projects to accelerate students' education in these and other areas."
Potts also has blogged about the future of media at www.recoveringjournalist.com and has appeared on CNN as a commentator about media and technology. You can follow him on Twitter: @pottsmark.
Potts and his wife, Jane Stiles-Potts, a special-education teacher, currently live in Falls Church, Va., outside of Washington, D.C., where their hobbies include cooking, gardening, Washington Nationals baseball and seeing as many Bruce Springsteen concerts as possible.
"I saw Springsteen for the 53rd time last weekend in Washington, and I'll see him for No. 54 this weekend in New Jersey," Potts said. "His Nov. 17 show in Kansas City is already circled on my calendar."

The Pottses will move to Lawrence in the next few weeks.
"We already love it here," Potts said. "Jane and I have often talked about moving to a college town, and we've lucked into one of the best. I'm looking forward to providing great journalism, in all forms, to the Lawrence community."
Copyright 2018 The Lawrence Journal-World. All rights reserved. This material may not be published, broadcast, rewritten or redistributed. We strive to uphold our values for every story published.