In what at times seemed like a series of replays Tuesday night, Shawnee Mission East's boys soccer team shelled Free State's goal with shots from all sorts of angles.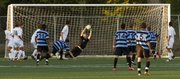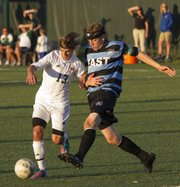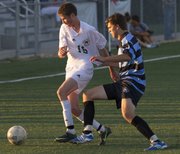 Almost every time the Lancers launched, Firebirds senior goalkeeper Luke Leslie happily denied the No. 7 team in the Kansas Soccer Coaches Association's all classes rankings. But not even a 15-save effort from Free State's determined keeper could stop SME from securing a 1-0 win at FSHS.
The Lancers (6-1) had speed all over the field, and Leslie saw it coming in his direction throughout the tight loss.
"It's kind of scary, honestly," Leslie said after seeing 29 shots fly off the feet of the Lancers.
SME scored its only goal in the 37th minute. After some passing near the top of the box, Andrew McClanahan crossed the ball from the right side to Jackson Stephens on the left for a header that barely beat Leslie.
"They switched it back and forth a few times and it was going across the goal," Leslie said. "I was so close. I got there a split-second too late."
Even though the Lancers dominated possession the vast majority of the night, Free State coach Kelly Barah said Leslie's efforts in goal made such a close game possible.
"He's a senior leader who's just tremendous and has great hands and agility and understands the game really well," Barah said.
The Firebirds (2-3) had such difficulty gaining possession that SME already had put up 16 shots and taken a lead before FSHS senior Caleb Francis scrounged up the Firebirds' first shot from the far right side in the first half's final minute. Francis and senior defender Anthony Richardson combined for Free State's four shot attempts in the loss.
Still down just one goal in the waning moments of the game, Richardson put a monstrous strike on a free kick from about 45 yards out. Players from both teams pushed and shoved for position as the ball headed toward the goal, but SME keeper GJ Melia got up to secure the ball.
"I thought there was a chance we would at least get a head on it," Richardson said.
East's possession and speed made it nearly impossible for FSHS to find much offense.
"It was more the timing of their runs," Richardson said. "They also had a lot of good balls that we didn't catch as well as we should've."
As Barah pointed out, the Lancers' depth played a significant role in the outcome, too. SME coach Jamie Kelly took out six to eight starters at a time in both halves.
"When they sub in and out," Barah said, "the quality that comes off the bench is still really, really high."
SME stayed fresh and fast throughout, but Richardson, senior Antonio Schoneich, junior Alex Trent and senior Josh Hess made key defensive plays for FSHS at various points in the game. Leslie said the Firebirds did a good job of staying in front of their opponents and taking away one-on-one opportunities.
"They didn't get beat a single time," the senior keeper said. "That makes my job easier."
FSHS plays host to Shawnee Mission North at 6:30 p.m. Thursday.
Copyright 2018 The Lawrence Journal-World. All rights reserved. This material may not be published, broadcast, rewritten or redistributed. We strive to uphold our values for every story published.