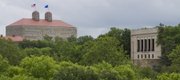 Subscribe to the email edition of Heard on the Hill and we'll deliver you the latest KU news and notes every weekday at noon.
Yes, Heard on the Hill makes its return today after a few weeks off. The byline may be different, but your daily spoonful of Kansas University-related newsy goodness will still be finding its way into your browser window or email inbox.
I'm taking over the KU beat here at the Journal-World, and thus I'll be your new Heard on the Hill blogger.
I'm coming here from the World Company's community newspaper in Basehor, the Sentinel.
During my first few weeks here, I'll be making the rounds, shaking hands and matching faces to names as I meet some of the many, many people involved in the many, many things going on at KU.
I do know at least a thing or two about the university, though — I graduated from KU in 2009 after four years as a student. (That followed my 2005 graduation from Olathe South High School, which — fun fact — is also the alma mater of my Heard on the Hill predecessor.)
Much of my time at KU was spent writing, editing and eating takeout food in the newsroom of The University Daily Kansan, which then was located in Stauffer-Flint Hall on Jayhawk Boulevard. But I also took political science classes (one of my two majors, along with journalism) in Blake Hall, camped out on the floors of Allen Fieldhouse for seats at basketball games and worked at the front desk of Templin Residence Hall, often at hours of the night at which I've not been awake in years now.
I've also recruited my first tipster — my wife, a doctoral student in KU's Clinical Child Psychology Program. I have a brother and a brother-in-law on campus, too, taking undergraduate classes.
But I'm on the lookout for other people in the know — people to whom I am not related, even by marriage. So if you have any news tips, feedback, doubts about my ability to uphold the Heard on the Hill standard or anything else, please get in touch with me.
Email me at merickson@ljworld.com. Call me at 785-832-6388. Tweet me: @MattEricksonKS. Students, alumni, faculty, staff, or anyone else who has an interest in KU, I'd love to hear from you.
Expect your usual nuggets o' KU news in this space starting tomorrow. And thanks for reading.
Copyright 2018 The Lawrence Journal-World. All rights reserved. This material may not be published, broadcast, rewritten or redistributed. We strive to uphold our values for every story published.