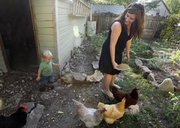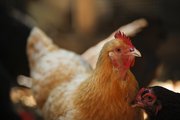 Keeping chickens
In Lawrence, residents may keep ducks and female chickens as long as they comply with rules set out in the city's animal code.
Following is a list of other animals residents legally can own in the city limits:
Dogs, cats, domesticated rodents, domesticated European ferrets, rabbits (up to three), birds (excluding turkeys, geese, swans, peafowl, guinea fowl, ostriches and emus), nonvenomous snakes less than 8 feet long, nonvenomous lizards, turtles (excluding protected species), amphibians, fish, invertebrates, domesticated hedgehogs and Vietnamese potbellied pigs.
Source: Lawrence City Code, Chapter 3: Regulation of Animals
Resources
Meryl Carver-Allmond blogs about keeping backyard chickens in Lawrence and other home pursuits at mybitofearth.typepad.com.
Our Local Food's informational article, "Backyard Chickens for Beginners," can be found at WellCommons.com, in the Food and Nutrition section.
The welcoming committee at Meryl Carver-Allmond's east Lawrence house is nine-strong, energetic, inquisitive and all aflutter.
There's Tori, Bonnie, Gladys, Joni and a handful of younger ladies (well, one's gender is questionable). While Carver-Allmond is at work, they sometimes bicker, but they pitch in on groceries (albeit only one category) and help a little around the yard (if pooping in it counts).
Her brood of chickens, Carver-Allmond says, is part food source, part pet and part amusement.
"They're really entertaining," she says. "They have personalities much more than you think they would."
Carver-Allmond and her family are among Lawrence residents taking advantage of the city's law allowing backyard chickens. Most owners agree, they like knowing where their eggs — and for some, drumsticks — come from. Plus, they just like having the plucky birds around.
At his home on Barker Avenue, Bob Gent has 11 laying hens and a few more chickens he plans to slaughter for meat.
Gent, who shares eggs and meat with friends if he ends up with extra, considers raising his own chickens one step better than cooking from scratch.
"I know … everything that these birds have eaten, and therefore I feel a little more confident about what I'm eating," he says, then pauses. "And they're very entertaining to have around."
Birds and bees
Residents may keep one female chicken per 500 square feet of lot size, with a maximum of 20 birds, according to the city's animal regulation code, updated in 2009 to allow chickens and ducks in town. The birds must have coops or similar shelters of sufficient size, distance from neighboring properties and cleanliness.
Roosters aren't allowed.
Primarily, they crow, and nobody's neighbors want that. Also, they can be aggressive, and the spurs on their legs are sharp, says Bill Wood, extension director with K-State Research and Extension of Douglas County.
"In town, with kids or pets around, a rooster could hurt somebody," he says.
Besides, roosters aren't necessary to get eggs — without fertilization, hens will lay but their eggs will never develop into chicks.
Carver-Allmond names all her hens after female singers. (Did you catch the theme earlier — Tori Amos, Bonnie Tyler, Gladys Knight and Joni Mitchell?)
But she's beginning to worry that one of the Indigo Girls, well, might actually be an Indigo Boy.
Amy, who is entering adolescence, seems to be growing more tail feathers than the rest of the flock. If she crows, Carver-Allmond says, Amy's out.
It's tricky to tell the gender of young chicks, and Carver-Allmond has had to give away two roosters after she realized the person who sold them to her guessed wrong.
Other facts of life must be dealt with, too, like the time Gladys "went broody."
The hen refused to stop sitting on a nest of eggs she apparently — and mistakenly — thought would hatch. Trying a trick she'd read, Carver-Allmond bought three chicks and sneaked them underneath Gladys while she slept.
It worked. Gladys woke up and sprang into action like the new mama she believed she was, her babies trailing her all around the yard.
Even in town, predators are a threat to chickens.
At Carver-Allmond's, chief predator is the family dog, a small but instinctual terrier. Chickens roam the backyard during the day but must be locked into their run or coop each evening before the dog can go out.
Foxes and opossums also have been known to hunt city chickens, and Gent has lost several to raccoons, even with precautions, making chickens a pet that requires twice-a-day attention.
Environmental activists
Besides always having fresh eggs, Gent also likes the activity his chickens create around the yard.
"I get some productivity out of a part of the yard I can't grow anything in, just because it's too shady," he says.
When chickens are roaming the yard, they scratch around, munch on bugs and leave their droppings, which biodegrade into the lawn.
When they clean out the coop, both Carver-Allmond and Gent toss the chicken droppings into their compost piles.
"It's just rocket fuel for plants," Gent says.
Carver-Allmond fences most of her vegetable plants so the chickens don't eat them. But when fall comes, she takes down the fences and lets the chickens have at the beds, which they help tear down and scratch up for the spring.
Michelle Gundy, who lives on New Jersey Street, says she and her husband, David Gundy, think of their chickens — 10, almost all different breeds — as a "moving landscape."
"With their color, they're just like walking flowers," she says.
Gundy says her husband takes their son, Wendell, outside every morning to watch the chickens scurry around for their breakfast. At only 3 months old, he's entertained, too.
"We throw the scratch grains right in front of him," Gundy says, "and he is fascinated with it."
Copyright 2017 The Lawrence Journal-World. All rights reserved. This material may not be published, broadcast, rewritten or redistributed. We strive to uphold our values for every story published.