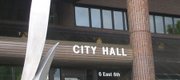 Subscribe to the email edition of Town Talk and we'll deliver you the latest city news and notes every weekday at noon.
News and notes from around town:
• Soirée season soon will be upon us. Yeah, I know, it sounds like something there should be a vaccine for. But my credit card statement from all the fine clothiers in Lawrence indicates there definitely has been no cure for it in the Lawhorn house. (And just this morning, my wife was talking about the need for a sparkly belt. Sparkly, I've learned, is code for expensive.)
Well, one of Lawrence's great soirée venues is getting a new sparkle to it. Maceli's, 1031 N.H., is undergoing a significant renovation. Owner Steve Maceli told me work is wrapping up to add a new mezzanine level to the banquet and catering hall.
The mezzanine level will allow Maceli's to easily host banquets and wedding receptions of 400 people. Maceli told me the mezzanine will be equipped with banquettes, which will allow for casual dining while people gaze upon the main ballroom. (What the heck is going on? Why are we using French words every other sentence?) In case you didn't know, a banquette is sort of a fancy little sofa with a half-booth around it, Maceli said. He also said for certain parties the mezzanine area could be converted into a larger bar area. (Trust me, I didn't have to look up what that meant.)
The mezzanine is just part of the expansion at the facility. The small front room of the building, called the Bistro Room, also will get expanded slightly. Maceli said the room will expand into some unused space in the adjacent Scotch Dry Cleaners facility, which is Maceli's landlord.
In addition, look for new drapery, new LED lighting, and something called a "light curtain," which I'm told is a fancy type of picture backdrop that gets brides all excited. (I'm sure the grooms are thrilled too. They just don't show it.)
The renovations come a few months after Maceli pulled out of a deal to renovate the old Masonic Temple building in downtown for use as a second location for his business. (As we've previously reported, the temple building is now set to become a church.)
"My future is right here in this building," Maceli said. "I'm not moving."
Maceli said he is betting that Downtown Lawrence becomes even more popular for wedding receptions, conferences and other large events. The addition of more hotel rooms in downtown — his facility is just over a block from the proposed hotel at Ninth and New Hampshire — will help, he said.
"The hotel is going to be great for downtown," Maceli said. "Now, we just need to get more stores to keep their businesses open until 8 o'clock. I think all the restaurants downtown are going to feel quite a boost from the hotel, and I think the stores would too."
• Speaking of soirées (hey, if I spend the time to look up how to spell it, I'm going to use it a lot), the folks at Ballard Community Center are trying to remind folks their big soirée of the season has a new location.
The annual Ballard B3: Blues, Brews and Barbeque event is set from 5 p.m. to 10 p.m. on Saturday at the Clinton Lake Softball Complex, near Wakarusa Drive and the South Lawrence Trafficway.
The event — which raises funds for Ballard's early education programs — will feature food from six competitive barbecue teams, beer from 10 area breweries, and four blues bands
In past years, the B3 event has been held in South Park. But on Saturday, South Park will be filled with hundreds of riders participating in the Bike MS 2012, a fundraiser for the Multiple Sclerosis Society. Bicyclists will be overnighting at South Park, so don't get your events confused. A biker in Spandex is one of the few things on Earth that can dampen my appetite for beer and barbecue.
In case you're interested, the six barbecue teams lined up for the event are: Butt's R' Us; Sweet Old Buzzards BBQ; Smoke-N-Things; Rock Your Belly BBQ; 3 Alarm Smokers; and Stringtown BBQ. The breweries scheduled to participate are: 23rd Street Brewery; 75th Street Brewery; Barnyard Beer; Boulevard Brewery; Crown Valley; Free State Brewery; High Noon Saloon; Summit Brewing; Tallgrass; and Weston Brewery.
And finally, the four blues band are: The Billy Bats; Ellie Smith & the Commotion; Slow Ya Roll; and the headline band, Josh Vowell & The Rumble.
If you see Josh, tell him you're glad he got some of his cousin's talent. Yes, Josh is my cousin.
Tickets are available at the Ballard Center, 708 Elm, or online at www.ballardb3.org.
• Maybe in future years, you'll be able to attend B3 at the Clinton Lake Softball Complex, eat and drink all the brews and barbecue you like, and then drive up the South Lawrence Trafficway and work it all off at a new northwest Lawrence recreation center.
City commissioners on Tuesday will have another discussion about whether to move forward with that plan, and if so, where.
As we have reported, the leading site now is just north of the northeast corner of Sixth Street and the SLT on ground that the Kansas University Endowment Association is poised to buy for a KU track and field, soccer and softball complex.
Commissioners at their meeting on Tuesday will formally start the process for those 110 acres to be annexed into the city limits. The process will involve a hearing at the Lawrence-Douglas County Planning Commission, and then come back to the City Commission. So, it will be a few months before that site can get annexed and rezoned.
What will be interesting, though, is whether city commissioners spend any time looking at another possible site for the recreation center. City Commissioner Mike Amyx told me he still wants to see a detailed cost comparison of how much it would cost the city to build a new recreation center/youth fieldhouse at city-owned land near Wakarusa and Overland, versus how much it would cost to build on the KU site.
The 29 acres of city-owned land, which is near Free State high and Wal-Mart, wouldn't accommodate both a recreation center and the KU components. At the moment, I think there is a strong desire among commissioners to co-locate with KU.
But it will be interesting to see what the public's reaction is when the numbers Amyx has requested are released. A preliminary analysis indicates the city will save about $5.5 million in infrastructure costs if it locates on the Wakarusa and Overland site versus the KU site. And as Amyx argues, the city-owned site is closer to more existing residences that could use the center.
Another interesting item to watch is whether the city continues to pursue a partnership with Lawrence businessman Thomas Fritzel to build the facility and then buy it from him on a 20-year lease-purchase agreement. The city has been interested in the partnership because Fritzel's non-profit foundation has indicated it will contribute to the financing of the project so that the partnership could build more building than the city could on its own.
But the details of that equation are changing a bit. Previously, the city had estimated that it could build about a $16.5 million building on its own. What has been proposed as part of a Fritzel partnership is a building worth $22.5 to $25 million. But now, the city has revised the number it can do on its own. That's because the city recently went to the debt market for some other projects, and now has a better idea of what type of interest rates it currently can obtain on its debt. The new analysis by the city projects it could build an $18.8 million building on its own, based on the most recent interest rates.
So, there is still a difference there between what the city can do on its own and what could be accomplished with a Fritzel partnership. But the Fritzel partnership has created questions in the public, in part, because Fritzel has never made a public presentation about what he is proposing to do. As interest rates are projected to go down further, it will be interesting to see whether commissioners proceed with a partnership or think it will be easier politically to go it alone.
Commissioners meet at 6:35 p.m. on Tuesday.
Copyright 2018 The Lawrence Journal-World. All rights reserved. This material may not be published, broadcast, rewritten or redistributed. We strive to uphold our values for every story published.