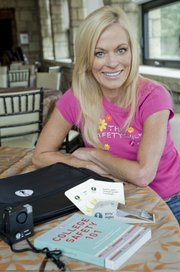 Safety tips
Kathleen Baty shared her top 5 safety tips for college women:
Care about your own personal safety: "You ain't in Kansas anymore when you go to school. You have to realize you are not in your safe, little home with your parents. The charge is now on you to be responsible for your personal safety," Baty said.

Intuition: Pay attention to your gut instinct. It's not being paranoid, it's our God-given gift. Two intuitions are better than one. Don't dismiss somebody; listen to what they're saying.

The code of the Safety Chick Sisterhood: Always have a buddy, but it goes beyond that. Always have each other's backs.

Report immediately: If something doesn't feel right — something you see in the dorms, a person loitering about, whatever — pay attention to it and do something about it. Let someone know.

Pass it on: The more people who care about their personal safety, the safer it'll be.
Sgt. Trent McKinley with the Lawrence Police Department also offered some advice about personal safety. He said Baty's Top 5 were similar to tips LPD advises.
"If you can avoid that situation in the first place," he said, "that's certainly what we recommend."
Here are some other tips from McKinley that anyone can put to use:
Be smart. If you're driving through an area you don't feel safe in, don't stop at a convenient store to get a soda.
Cellphones are beneficial. Stay in touch with friends or family about where you're going and when you'll be back. But don't let your phone distract you from being safe. Distraction can lead people to walk off a curb and into oncoming traffic or be more susceptible to purse snatching.
At home, lock your doors, close your windows and close your blinds. Screens will keep out bugs, but not burglars, McKinley said.
Keep an exterior light on at night. The old adage of "turning the light off when you go to bed" is no more.
If your backyard has a gate, put a padlock on it.
Kathleen Baty is sporting jeans and a hot pink shirt decorated yellow flowers and rhinestones that spell "The Safety Chick." The flowers and rhinestones don't fool me, though.       
This woman is tough.
After all, Baty is "The Safety Chick." She is a personal safety expert and advocate who travels the country doing seminars and appearing on talk shows. In the 1990s, she was instrumental in helping pass anti-stalking legislation.
If that doesn't make her tough enough, she's also the mother of three boys. In fact, that's why she's in Lawrence, visiting from California. Her son, Turner Baty, plays quarterback and dons No. 6 for Kansas University. He was recruited by new head coach Charlie Weis.
Baty was in town this month to watch Turner play his first Division 1 game for the Jayhawks, but she took time to talk about personal safety and what it's like to be The Safety Chick.
"Crime knows no boundaries, no demographic, no neighborhood," she said.
A look the Lawrence Police Department's list of reported cases of crimes for the first half of 2012 could paint a nerve-wracking picture:
331 cases of burglary
59 cases of kidnapping or abduction
28 cases of robbery
23 cases of rape
But Baty offers this advice: "It's not about living paranoid, it's about living smart."
She has written two books about safety. "A Girl's Gotta Do What a Girl's Gotta Do" was released in 2003, and "College Safety 101: Miss Independent's Guide to Empowerment, Confidence, and Staying Safe" was published last year.
The latter goes beyond what to do if you feel unsafe. The book discusses dorm life, studying abroad, self-defense and how to stay safe on the Internet.
She also sells College Safety Kits on her website, SafetyChick.com. The kits include a date rape drug test coasters, a personal safety alarm, a door wedge alarm and her "College Safety 101" book.
But, she says, the biggest way to prevent being a target is caring about personal safety.
"It should be as routine as brushing your teeth," she said.
So, how did Baty become "The Safety Chick"? After all, it's not exactly a career many little girls envision for themselves at a young age.
Baty was stalked for eight years by a man she went to high school with. He would show up at her door with semi-automatic weapons, knives and handcuffs trying to kidnap her. It may sound like the plot to a Lifetime movie, but for Baty, it was her life.
"I lived the life of a hunted animal," she said.
One day when she was home alone, Baty turned around to find her stalker standing behind her with a knife in his hand. Luckily, Baty was able to escape. Police kept her stalker at bay on her front porch for 11 hours before arresting him.
At the time, the word "stalking" wasn't even in the nation's vernacular.
"It was ridiculous and crazy that there were no laws on the books and that it always had to lead to murder, violence or kidnapping," she said. "There was never anything to stop it in its tracks."
After Baty's incident, she received a phone call from California congressman Ed Royce. Royce was trying to pass an anti-stalking law through the state legislature, and he asked Baty to testify.
"The day that I testified," she said, "it was like a weight was lifted off my shoulders."
In 1991, stalking was made into a crime in California. Two years later, Royce was elected to U.S. Congress. In 1996, stalking was made a federal crime.
Afterward, "getting the word out" about stalking became Baty's passion.
"I started doing every national talk show known to man to get the word out about stalking," she said.
Nearly a decade ago, she left her job as a sportscaster to pursue being a full-time personal safety expert and advocate.
She has appeared on "Today," "The Montel Williams Show," "America's Most Wanted," "Inside Edition," "Good Morning America" and "Larry King Live."
"In fact, I did 'Larry King Live' in labor with Turner," she said. "He came a month early, that little peanut."
Copyright 2018 The Lawrence Journal-World. All rights reserved. This material may not be published, broadcast, rewritten or redistributed. We strive to uphold our values for every story published.