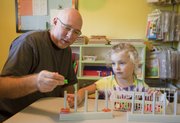 Let's face it — 4-year-olds can be loud, messy and often a handful. Someone who spends 12 hours a day in a room full of them either loves children or is incredibly patient.
For James Immel, who runs Immel Early Education Academy at 3045 W. Seventh St., it's a little of both.
"You have to have patience, you have to be organized, and you have to be consistent," he said.
From 6:30 a.m. to 6 p.m., Immel takes care of six children at his business, which also doubles as his home. He feeds them snacks, breakfast and lunch. He puts them down for naps, plays music to them, reads to them and gets them ready for kindergarten.
Immel has quite a bit of experience in this field. He has worked more than 20 years in early childhood education for the Lawrence school district and Princeton Children's Center. When the Lawrence school district expanded to all-day kindergarten this year, Immel saw an opportunity and opened his business earlier this month.
"All the stars were just lined up right, and this really has been a dream come true, to be my own boss and have things done my way."
Immel said that the expectations for the average kindergartner have been growing year after year and that all children develop at a different pace, making preschools necessary.
"The state standards nowadays, the child entering kindergarten isn't prepared," he said. "They are so far behind socially and academically. They need that experience to help prepare them for kindergarten so when they do enter kindergarten, they can immediately start learning."
His job is to get them on board. The trick?
"The key is to teach through play. That's really key."
Immel got involved with early childhood development at Kansas University, where he got a bachelor's degree in early childhood education and a minor in special education.

"I've just always enjoyed kids and was always drawn to those courses, plus they were easy for me."
Immel said he was also one of the few males in the field, something that he views as helpful.
"What I have seen, especially in today's day and age with all the divorces, kids really need a positive male role model and a consistent male in their lives," he said. "They just respond well to me."
Immel hopes to hire an assistant after more children enroll in the academy and to have one educator per six children, which he said is about half as many children per adult as a regular preschool.
This allows him to provide more one-on-one attention, whether its reading "Green Eggs and Ham" or playing "Twinkle Twinkle" on his guitar to the kids.
His hope is that such attention will further nurture the children and put them on track to be well ready for the next step.
"The preschool age will learn more, in the age span of 5 and 6, will learn more in that year than they will ever learn in the rest of their lifetime," he said. "It's great to see the growth."
Copyright 2018 The Lawrence Journal-World. All rights reserved. This material may not be published, broadcast, rewritten or redistributed. We strive to uphold our values for every story published.