Photo Gallery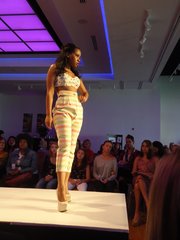 Kansas City Fashion Week
Kansas City: the land known for its jazz, BBQ, and — believe it or not — fashion.
It may not be readily apparent now, but Kansas City fashion enthusiasts are looking to the city's past in order to bring it to the fashion forefront once again through Kansas City Fashion Week, which took place Sept. 5-9.
After World War I, soldiers came home and, not wanting to go back to farm life, flocked to the city. Kansas City's Garment District, historically situated between Sixth and 11th streets and Washington and Wyandotte streets, began to thrive.
In the 1930s, one out of every seven women in the United States owned a Kansas City-made garment, a far cry from the limited production that happens in Kansas City today. The district grew so quickly and so widely, it became the second-largest garment district in the United States, with New York City's being the biggest.
In celebration of Fall 2012 Kansas City Fashion Week, I went to one of its three fashion shows, which featured student designers (the first fashion week to ever host students) and professionals alike. Kansas City's Fashion Week attracted mostly Midwest designers, but some came from as far away as Florida.
Margie Hogue, a Lawrence designer, displayed a collection she created for Awava, a fair-trade African craft company founded to help Ugandan women reach economic sustainability.
I took my seat in The Gallery Event Space approximately a half-hour before the show began, and my eyes were immediately drawn to the DJ, whose booth sat exactly opposite of my chair. I quickly learned that he goes by the name "Gent," he loves to dance, and his diet includes large quantities of caffeine. Next to his laptop, he had placed three Red Bulls, three Diet Cokes and a cup of coffee. And he danced the entire show.
As expected in Kansas City, the crowd wore an eclectic mix of styles. Multi-colored mohawks blended with well-kempt buns; studded blazers sat next to off-the-shoulder sweaters; nude-colored wedges intermingled with combat boots. Twenty-somethings gabbed with 70-somethings, and even a few grade-schoolers attended, chaperoned by their well-dressed mamas.
The collections showcased mimicked the crowd's incongruent sense of style and boasted looks truly unique to each designer. The nine designers featured in the show seemingly left no style untouched. Everything from a couture line designed by a 15-year-old to a dress made out of cigarette boxes to little girls' punk rock costumes made their way down the runway.
Kansas City Fashion Week President Phil Willoughby and Executive Director Teisha Barber have built a team of individuals determined to attract the best and brightest up-and-coming designers, and as a return to its past, Kansas City is focusing on its locals to build a rejuvenated fashion hub. Kansas City will host another fashion week in the spring.
Copyright 2018 The Lawrence Journal-World. All rights reserved. This material may not be published, broadcast, rewritten or redistributed. We strive to uphold our values for every story published.