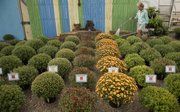 Fall is almost here, and with its arrival are all the things I love about the season: cool nights, football, pumpkins, lawn renovation and the glorious hues of chrysanthemums in my garden.
Mums, as they are often called for short, brighten the area around the other tired plants in the landscape, waving their cheery gold, bronze and deep-red blossoms in the autumn breeze.
Marsha Henry of The Henrys' Plant Farm, 248 N. 1700 Road, Lecompton, says now is the time to plant these autumn beauties. The Henrys have about 20 different varieties of mums available in varying shades of fall colors and sizes.
Almost all of the mums have feminine names like Helen, Lisa and Bonnie, which are bestowed on the different varieties by plant breeders. Henry says she has a hard time declaring a favorite, although she leans toward varieties with yellow or golden flowers, like Ursula. A new variety for this year, Electra Amber, is shaping up to be an excellent selection as well, with blossoms in a unique shade somewhere between gold and orange.
The Henrys also grow my personal favorite mum, Jennifer, which has two-toned bronze flowers.
Mums can be planted in pots or in the ground.
"Water is going to be the most important thing," Henry says. "It takes a little while for them to get their roots out after you transplant them, so you'll have to water at least until they take off."
As with all landscape plants, watering every day may be necessary at first, but then deep and infrequent watering should be practiced to encourage good root growth. Check soil moisture with a trowel or screwdriver to determine when more water is needed.
Also, when planting mums, loosen the roots a little to stimulate new growth.
Supplemental fertilizer is generally not needed once the blooms set.
Henry says customers often ask about whether chrysanthemums will survive the winter. Although mums are technically winter-hardy in this area, Henry suggests thinking of them as annuals.
"So often it is too wet or too dry over the winter, or they just don't get established well," she explains. "I think it's best to just enjoy them for the fall when they are full of blooms, just like your other annuals in the spring or summer. If they overwinter, it's a plus."
For better success with winter survival, Kansas State University suggests cutting mums back to two to three inches after blooms fade, applying mulch over the top of the plants and continuing to water the plants deeply and infrequently if there is inadequate precipitation.
Mums that do overwinter should be fertilized at the first signs of new growth in the spring and a second time in mid- to late July.
The plants will also need to be "pinched" to prevent early blooming. You can literally pinch the stem tips or cut them with shears or hedge clippers. Pinch the tips when plants are about 6 inches tall and again each time the stems have grown about six inches, from spring through the first part of July. Pinching will also encourage full, bushy plants.
Copyright 2018 The Lawrence Journal-World. All rights reserved. This material may not be published, broadcast, rewritten or redistributed. We strive to uphold our values for every story published.