The filming for "Survivor: Philippines" wrapped up four months ago, and the tribe has spoken for the last time.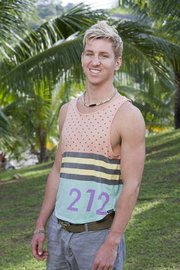 But Carter Williams, a 24-year-old Shawnee resident and one of the 18 castaways selected for the show, has to remain mum when the inevitable questions are asked: Were you the sole survivor? Did you win the $1 million?
Details about who outwitted, outplayed and outlasted the others remain a tightly guarded secret as the CBS series returns for its 25th season, premiering Sept. 19.
But among Williams' acquaintances, it's no secret that the lean, blond-haired athlete was prepared for the physical rigors of the island competition.
Carter is a 2007 graduate of Maranatha Christian Academy in Shawnee, where his mother, Bianca Williams, is a cross-country coach and his brother, Preston, coaches track. Carter ran distant events in high school and at Biola University in Southern California, where he graduated with an athletic training degree in May 2011.
Since then, he has helped coach runners at Maranatha and Blue Valley North High School. Since his return from the Philippines this May, he has been coaching at Solution 1 CrossFit, a gym at 8160 Monticello Terrace in Shawnee.
CrossFit training involves constantly varied, high-intensity movement during workouts that last from five to 30 minutes and combine everything from running and jumping to pull-ups and kettlebell swings.
"When people come in, they don't know what the workout is until they see it on the whiteboard," said J.R. Kuchta, owner of Solution 1 CrossFit. "CrossFit prepares you for the unknown and the unknowable," of which Survivor contestants face a lot.
According to Carter, his mother was among the first cross-country coaches to incorporate CrossFit training into her training regimens. She and his father, Price Williams, work out regularly at Solution 1 CrossFit, and Carter has been using CrossFit sessions as part of his training since he was a senior at Biola.
There, he discovered that actually running less while mixing in CrossFit training improved his strength and times, earning him a trip to the NAIA nationals in the steeplechase event.
After graduating from college, Carter continued his CrossFit training at Boot Camp Fitness in Prairie Village. A longtime "Survivor" fan, he'd been telling his mother for years that she should submit an audition video for the show. But she never did, and when Carter finally decided to take a shot himself, he resumed CrossFit "to become an all-around athlete, with a lot of strengths and no weaknesses," he said.
Price Williams, a longtime distance runner and triathlete, said all three of his children had inherited their parents' athleticism. Carter's sister, Keegan, was a three-time class 2A state pole vault champion (2008, 2009 and 2010) while at Maranatha.
Carter, who has assisted in sales at Harvest Graphics, a Lenexa firm Price Williams owns, also inherited a strong work ethic, his father said. And somewhere along the way, he acquired a little Hollywood to complete the package.
The "Survivor" producers loved the audition video Carter sent them last fall, his father explained. He didn't do great on a subsequent phone interview, he said, but the producers told Carter to make and send them another video, and that helped seal his selection.
Shot at Lake of the Forest in Bonner Springs, the second video featured Carter running through woods, climbing trees and paddling across a lake.
"The producers said, 'You look like a real-life Tarzan,'" Kuchta said last week.
But Kuchta knew nothing about Carter's "Survivor" exploits when he came in to Solution 1 to inquire about a coaching position after returning from the Philippines.
"His father had said, 'I really want you to meet my son. He's been out of town for a while,'" Kuchta recalled. "And it wasn't until Carter's first or second workout here that he shared that with me. I was like, 'Holy crap.'"
Prior to that time, Kuchta had told Carter that before either of them made a decision about his joining the Solution 1 coaching staff, Carter should start training there and see if their visions meshed. They did, he said, adding that Carter is scheduled to earn his level 1 CrossFit coaching certification this week.
Asked if he thought Carter's celebrity would help business, Kuchta said, "I don't know. He might turn out to be the villain on the show."
He was kidding.
"Carter is a combination of laid-back, competitive and outgoing, if that makes any sense," Kuchta said. "He's very personable. He likes to make people feel included, which probably helped him on 'Survivor,' and he keeps the beginners motivated. He's also part of a really cool family, so full of life and zest."
Now that family is about to expand.
Shortly after returning from the "Survivor" taping, Carter became engaged to Faith Manning, a 2009 Maranatha graduate and fellow distance runner whose mother, Suzy Manning, coaches junior high track and cross-country at the school.
Now, Marantha athletic director Dave Keener said, the whole school is looking forward with keen interest to the televised exploits that Carter is looking back on but can't talk about.
Hosted, as always, by Jeff Probst, this season's series will include some twists, including a three-tribe format to change up the alliance strategies. The show also will feature the return of three former castaways who had to be medically evacuated during previous "Survivor" competitions.
The remaining 15 contestants include former Major League Baseball MVP Jeff Kent and "Facts of Life" TV series star Lisa Whelchel.
And then there is Carter Williams, who is described on a promotional website as the "dude with a faux hawk."
"As far as my hairstyle," he says in a video promoting the series, "you'd have to talk to my hair stylist, my girlfriend. She pretty much has free rein with my hair."
In another promotional piece, Williams talks about a more serious matter: what he would do with the $1 million if he were the winner.
He'd love to start a CrossFit gym and involve his family, he answered.
Copyright 2018 The Lawrence Journal-World. All rights reserved. This material may not be published, broadcast, rewritten or redistributed. We strive to uphold our values for every story published.