For the first two matches of Bishop Seabury Academy's home volleyball triangular on Tuesday, quiet applause ruled the bleachers.
Photo Gallery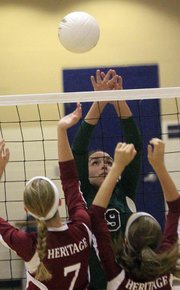 Seabury volleyball vs. Heritage Christian
Supporters of both Seabury and Veritas Christian seemed happy enough to see their favorite team win, but when each program defeated Heritage Christian Academy, no one deemed the feats worthy of jumping or screaming.
The fans and even the players saved that fervor for the third match showdown between Veritas and Seabury, the city's two rival private schools. And although the presence of former Veritas standout Sarah McDermott on Seabury's roster added to the intrigue, the visiting Eagles united after a first-set loss and earned a 17-25, 25-23, 25-22 victory.
With the third and deciding set tied at 17, Veritas (7-2) surged ahead with five straight points that included a pair of kills by sophomore Lacey Billings and another from senior Kristen Finger — just enough of a cushion to hold off Seabury and nab a win.
After seeing the breaks fall the Seahawks' way in the first set, Eagles coach Mike Bartlow couldn't have been more proud of how his players recovered.
"That's a character builder when you lose that first one," the coach said.
Veritas junior Teri Huslig, who had 10 kills, six assists and three aces in the win, said the initial setback allowed her team to huddle up and talk about harnessing the energy of the rivalry match.
"I could feel the adrenaline in all of us," she said.
Huslig, Billings, Finger and Abi Bartlow all scored key points for Veritas in the final two sets.
Seabury coach Chrissy Leuty said Veritas began hitting the ball much better after the Seahawks (5-2) won the first set, and Huslig did an incredible job of serving.
"Our passes were OK, but they weren't perfect," Leuty said, noting the Seahawks must improve their setting at the net.
Aces played an important role in the first set for Seabury, with freshman Taylor Hodge serving up three and senior Alexa Gaumer adding four toward the end, but the Seahawks struggled to put together enough digs and passes for high-percentage chances in the following two sets.
In that stretch, McDermott, who attended Veritas her freshman through junior years and transferred to Seabury after the 2011 volleyball season, manufactured some assists for senior Courtney Hoag and registered some kills of her own.
Huslig said it was odd to see the former Eagle in a Seahawks uniform on the other side of the net.
"I've missed Sarah a lot. She and I are really close. But she played great for them," Huslig said. "She fought hard. It was definitely a challenge having to play against her, because she's a great player."
Though admittedly frazzled by the loss, McDermott said she still has strong attachments to the Veritas program.
"Obviously, you want to beat the team that you came from even though you love them," she said. "It's intense because I felt like I had something to prove."
Leuty hadn't seen her team more fired up this season, and credited McDermott for making that possible with her zeal.
"It was good to see how emotional (the Seabury players) were after the game, how upset they were," Leuty said. "We had freshmen crying after we lost. It's great to see that they want it that much."
Seabury disposed of Heritage, 25-16, 25-20, to open the tri. The Seahawks broke a 10-all tie in the second set by scoring eight straight points. Hodge served up six aces, including four in a row, to ignite the run.
Veritas also swept Heritage, with victories of 25-19 and 25-16. Like their in-town rivals, the Eagles also benefitted from a string of four straight service points in their second set. Huslig burned Heritage for four aces in a row.
Copyright 2018 The Lawrence Journal-World. All rights reserved. This material may not be published, broadcast, rewritten or redistributed. We strive to uphold our values for every story published.