A hotel security guard who fatally wounded a McLouth High School student on a Spanish Club trip to Costa Rica has been sentenced to 15 years in prison.
Photo Gallery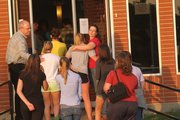 McLouth residents gather to mourn Justin Johnston
The Tico Times, a San Jose, Costa Rica, newspaper, reported earlier this month that a trial court handed down the sentence to Jorge Guevara in the shooting death of Justin Johnston, 16. The court also ordered Guevara and the hotel for which he worked, La Cangreja, to pay $650,000 in restitution to Johnston's family.
McLouth student killed while on school trip in Costa Rica
Johnston died early June 2, 2011, in La Fortuna de San Carlos, Costa Rica, the victim of an overnight shooting. He was on a nine-day McLouth High Spanish Club trip with 12 students and two school district sponsors.
Overnight, Johnston and another student left the hotel and returned after curfew, according to the newspaper. When they returned, the pair passed close to an adjoining property with a barbed-wire fence to avoid being noticed, according to the Judicial Investigation Police.
Police said the guard fired a warning shot into the air, frightening the teenagers, who began running toward the hotel. The guard fired in the direction of the students and fatally wounded Johnston, the newspaper said.
Guevara's gun was unregistered, police said. During the trial, the guard said his intent was to send a second warning shot because he thought the youths were thieves.
Johnston had just completed his sophomore year at MHS before heading to Costa Rica.
Johnston's death marked the second time a northeast Kansas student was killed while on an educational trip to Costa Rica.
Shannon Lucile Martin was only a few days from graduating from Kansas University in May 2001 when she was murdered in Golfito, Costa Rica, while walking to her residence after a night out at a disco. She had been in Golfito finishing a class project to collect rare fern samples.
Copyright 2018 The Lawrence Journal-World. All rights reserved. This material may not be published, broadcast, rewritten or redistributed. We strive to uphold our values for every story published.