Photo Gallery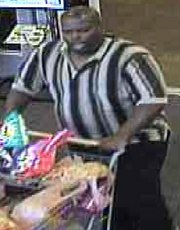 Burglary suspects
Police are looking for this man and woman in connection with several recent Lawrence home burglaries. Anyone with information can call Det. Mike Verbanac at 830-7440.
The Lawrence Police Department on Tuesday afternoon released a recap of a recent rise in home burglary cases and called on the public to help identify and locate several suspects.
According to the news release:
• 83 aggravated home burglaries have been reported in Lawrence between March 17 and Aug. 27 of this year.
• In only six cases was force used to gain entry into the home.
• In the majority of cases, the common factors in the burglaries are that "they occur during the late night or early morning hours when residents are asleep and entry is made through open garage doors, unlocked doors, or unlocked rear sliding glass doors."
Arrests
Several arrests have been made in the cases, including:
• William D. Washington III, 32: Arrested on June 9 and charged in three burglaries; two in the 3400 block of Augusta Drive and one in the 2100 block of Quail Creek Drive. Washington didn't show for a court appearance and currently has a warrant out for his arrest.
• Ronald Kenneth Brooks, 31: Charged with two home burglaries; one in the 300 block of Northwood Lane and another in the 300 block of Woodlawn Drive. He is scheduled for a November trial.
• Kristopher Pete McDonald, 37: Arrested for a July 21 burglary in the 3100 block of Tomahawk Drive. McDonald pleaded no contest to one count of burglary and is scheduled to be sentenced Friday.
• Austin Lee Whitebird, 19: Arrested and charged in two home burglaries in the 1600 block of West 19th Terrace on Aug. 24. Whitebird is accused of entering two Lawrence homes and trying to assault two women as they slept in their beds. A preliminary hearing in the case is schedule Sept. 19.
Other suspects
In addition, an investigation into a July 19 home burglary in the 400 block of Vine Drive identified several suspects in numerous residential and vehicle burglaries. Those arrests included:
• Ronnie Eugene Taylor, 18: Charged Monday with 11 total counts, including four home burglaries.
• Markcus Trey Sanders, 18: Charged Sept. 4 in two July home burglaries in which Taylor is also charged.
Assistance sought
However, police have asked for the public's help in locating the following suspect, who's wanted in connection with some of the crimes Taylor and Sanders were charged with:
• Cody A. Barnes, 18, of Lawrence. If anyone has information, call CrimeStoppers at 843-8477. Callers may qualify for a $1,000 reward for assistance.
Police are attempting to identify a male and female suspect in reference to the following four home burglaries:
• April 1: 2800 block of Harrison Place.
• April 19: 900 block of Alabama Street.
• June 2: 400 block of John Doy Court.
• June 25: 300 block of Woodlawn Drive.
Surveillance photos from stores in which the suspects used credit cards stolen in the above crimes show an overweight black man and a black woman. Anyone with information about either of these suspects is asked to call Detective Mike Verbanac at 830-7440.
Copyright 2018 The Lawrence Journal-World. All rights reserved. This material may not be published, broadcast, rewritten or redistributed. We strive to uphold our values for every story published.