News, et cetera, from schools in and around Douglas County: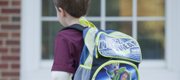 Subscribe to the email edition of First Bell and we'll deliver you the latest local education news and notes every weekday at noon.
• USD 497 is looking for community volunteers for two district advisory committees. The equity council is looking for contributors, as is the finance advisory council. The equity council meets at 6:30 p.m. the third Wednesday of the month and the FAC monthly, to be determined.
The FAC is particularly looking for volunteers with accounting or auditing experience.
Applications are due by the end of this month and are available on the district's website.
For more information about the equity council, contact Anna Stubblefield at 330-1760; for the FAC, Kyle Hayden at 330-4309.
• Here's a good resource for Pickney parents — a site set up by the PTO. Thanks to Amy Mason for bringing it to my attention; I'll be keeping an eye on it for Panthers news.
• And news out of Eudora: High school math teacher Scott Keltner was named regional teacher of the year in an Overland Park banquet on Sunday. The Eudora region includes Kansas City. He'll go on to the state teacher of year selections, which will be announced in Wichita on Nov. 17.
• In case you missed it over the weekend, Karrey Britt posted a story on WellCommons.com about Michel Loomis, a teacher at Liberty Memorial Central Middle School. Loomis was named a state champion of health and will be honored Thursday at the Kansas State Fair. The story is a good read about a well-liked teacher.
• Today I'll be talking to Lawrence high schoolers who have qualified as National Merit Scholarship semifinalists. There's quite a few, and I'm looking forward to it — but it's a secret who they are until tomorrow, so look to LJWorld.com then for a story.
• Know anything that I need to learn? Send news tips, comments or questions to acgarrison@ljworld.com or call 832-6314.
Copyright 2017 The Lawrence Journal-World. All rights reserved. This material may not be published, broadcast, rewritten or redistributed. We strive to uphold our values for every story published.