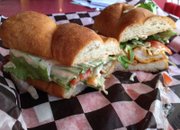 Beyond hints of flakiness like whitefish and silt-iness like catfish, it turns out alligator meat really does taste a lot like chicken. On this sandwich, strips of breaded, fried 'gator (restaurant owner Greg Renck confirms it's real alligator, tail meat to be specific) come layered with lettuce tomato and onion and dripping with spicy sauce. With only 14 indoor seats, this cozy restaurant sends a good amount of sandwiches out the door in paper bags — they are equally messy dining in or carrying out.
Where to get it: Terrebonne Po' Boys and Desserts, 805 Vt.
What you'll pay: $8.50, plus tax
Try it with: Slaw. And if the sandwich isn't spicy enough for you, a dribble of something from Terrebonne's ample hot sauce selection.
Also on the menu: Crawfish and other Po' Boys, Muffaletta sandwiches (on a full, half or quarter foccacia loaf), Creole gumbo, fried okra and Deviled eggs — regular or wasabi. For dessert, there's shakes, malts and rich, gooey treats like Toffee Butter Cream Bars.
Restaurant website: terrebonnepoboys.com
Copyright 2018 The Lawrence Journal-World. All rights reserved. This material may not be published, broadcast, rewritten or redistributed. We strive to uphold our values for every story published.