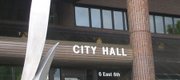 Subscribe to the email edition of Town Talk and we'll deliver you the latest city news and notes every weekday at noon.
News and notes from around town.
• Forget Romney vs. Obama. Heck, forget the entire Turner Gill era. There has been a debate brewing at both ends of Massachusetts Street that has lasted longer than either one of those spectacles.
It is called the Northeast Area Plan, and watching it wind its way through Lawrence City Hall and the Douglas County Courthouse has kind of been like watching a Turner Gill coached defense; there has been a lot of back and forth.
On its face, the plan seems simple enough. The goal is to figure out what the future land uses ought to be for the area north of North Lawrence, and in particular, the areas near the Lawrence Municipal Airport and Interstate 70.
The plan would seem to be a piece of cake in that everybody went into the process agreeing that the vast majority of the approximately 10,600 acres in the plan should remain exactly as they are: prime agricultural ground.
Well, let me tell you, the cake has gone stale. I honestly can't tell you when the work on this Northeast Sector plan began. I found a document that showed the third draft of the plan was put out in July 2010. That's the third draft. I think, depending on how you count it, work on this plan has been going on for about four years. (Given the fact he didn't even get three years, this particularly makes Turner Gill mad. You can tell when he is mad because he sometimes forgets to say please.)
It all may come to an end on Tuesday. City commissioners are being asked to give final approval of the plan at their weekly meeting.
It will be interesting to see whether there is one last fight on this issue. The fight long has been over how much industrial land should be included in the future plan. Economic development leaders have argued a few hundred acres of industrial land would be appropriate along I-70, especially near the Lawrence Municipal Airport.
But a coalition of North Lawrence residents, environmentalists and a few specialty farmers (though not the largest farmers in the valley), have argued more industrial use in the area would create major problems.
Specifically, their largest concerns have to do with flooding. Stormwater runoff long has been a concern in North Lawrence, and residents are not convinced industrial development would be able to adequately control the runoff it would create.
Another argument has been the need to protect prime farm land. The area is full of Class 1 and Class 2 soils, the richest soil types in the area. Several environmentalists have argued that preserving those prime soils will be important for Lawrence's future food security.
Economic development leaders, however, have argued that Lawrence's jobs future is tied to finding some spots along Interstate 70 that can support industrial development.
At least they did argue that at one point. When Douglas County commissioners approved the plan at their June meeting, economic development interests essentially threw in the towel.
County commissioners approved a plan that calls for very little new industrial development in the area. The area around the airport and along I-70 will continue to be agricultural land.
In fact, this plan actually proposes that land that is currently zoned industrial be down-zoned — eventually — to very low industrial or planned open space. What makes it more interesting is the land is not only along I-70 but it actually is immediately adjacent to the I-70 interchange in North Lawrence.
If you look on a map directly east of the I-70 interchange, there is a large section of ground from the interchange to East 1550 Road — so, a little more than a half-mile stretch — that already is zoned industrial.
The property is just outside the city limits, so the industrial zoning is county industrial zoning. But it seems to be a pretty well-situated piece of ground from a transportation standpoint.
If you are still confused about where it is located, it basically includes the large open ground behind the city's Solid Waste building — where they store all the recycled cardboard and such — on NE Industrial Lane.
Yes, the name of that road would seem to suggest that the powers that be once thought this area could house industrial uses. But now our long-range plan is suggesting that it become either open space or a development that would include very large-lot residential homes right in the shadow of one of the busier interstates in the country.
There may be a very good reason why industrial no longer works there, but I haven't heard it during the last four years. In fairness, I also haven't heard the landowner (I need to confirm his name before I print it) complain about the plan's recommendation either.
But it all seems odd to me, given that economic development leaders still insist lots along I-70 are going to be important for the future. Especially given that the future of industrial development near the Lecompton interchange on I-70 northwest of Lawrence is tied up in lawsuits, I wonder why this area hasn't gotten more attention.
I'll do some checking, but for now let's move on. After all, I have run out of Romney/Obama and Turner Gill references, which means this is starting to read more like a story about a planning document. Nobody wants that.
• What is wanted right now is water — water for those trees and plants that have been parched and may be in for a rough winter, unless the weather pattern changes soon.
Well, the city of Lawrence is getting more creative in how it goes about watering the many trees and plants it cares for.
The city's Parks and Recreation Department is teaming up with the city's utilities department to use what is called "reclaimed water" from the city's sewage treatment plant.
Yes, the "reclaimed water" once was raw sewage. But then it gets treated in the plant and becomes "reclaimed water." I don't think you would want to have a glass of it at breakfast, but it is far different from sewage. It is cleaned to the point that the EPA deems it safe to dump into the Kansas River.
And that's what happens to millions of gallons of it each day. Now, the city is proposing to capture some of that water and allow Parks and Recreation employees to use it to water trees across the city.
The plan calls for the sewer plant water to be used on trees in parks, cemeteries, traffic islands, and street trees in some older residential neighborhoods. Currently, the city uses regular old drinking water to irrigate those plants.
The idea of using reclaimed water from sewage treatment plants is pretty popular in the southwest, but it looks like it is making strides in this part of the country too. The city notes Western Hills Golf Course in Topeka uses reclaimed water for its irrigation. (I still bet my play stinks up the golf course more than their reclaimed water does.) In all seriousness, I don't believe odor is much of an issue with the reclaimed water. The city's research also found Hiawatha, Miami County, Sabetha and Wichita all have fairly active programs that use the treated sewer water for irrigation.
• From sewage to trash, there's news about the city increasing its efforts to use higher-tech trash trucks.
As we reported a few weeks ago, the city agreed to purchase its first fully automated residential trash truck. In other words, it has a robotic-like arm that is controlled by the drive of the truck and reaches out and picks up the new trash carts that all residents will start getting in October.
Well, city leaders started looking through the city's budget a little more closely and decide it could afford to buy another one of those trucks. City commissioners are being asked to approve a bid of $168,565 for another one of the fully automated trash trucks. No word yet on when they may start showing up on the street, or which neighborhoods they'll be used in. But I'll check on that.
Copyright 2018 The Lawrence Journal-World. All rights reserved. This material may not be published, broadcast, rewritten or redistributed. We strive to uphold our values for every story published.