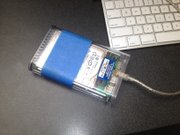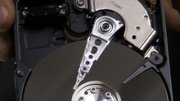 When Michael Readinger's daughter's laptop died, he thought she had lost everything — years worth of pictures, memories, and schoolwork erased.
"It's like losing stuff in a fire or something," Readinger said. "It's just gone."
His wife insisted on holding onto the computer, confident that someday someone would be able to recover what was lost. A couple years later, Readinger came across an advertisement for Dr. Dave Computer Repair Services, and a repairman was able to retrieve the files. The Readingers are thankful to have the photos back but now take precautions to prevent future catastrophes.
"We learned a huge lesson," Readinger said. "We now use an external hard drive to back stuff up so we don't lose everything."
Like most people in today's digital age, Readinger has put a lot of his life on his computer. From photos and documents to music and home videos, a personal computer is a lot more than a piece of technology. It's a valuable storage facility.
"Living in the digital age, for most people all their important information is on a computer or some sort of electronic device," said Nicholas Christensen, a counterintelligence agent for the Geek Squad at Best Buy. "You don't realize how much you have to lose until it's gone."
For families, as was the case with the Readingers, some of the most valuable files on a computer are ones that can't be replicated, such as photos and home videos.
"One aspect of my job that I really hate is giving people bad news and telling them they lost everything," said David Greenbaum, owner of Dr. Dave Computer Repair Services. "They are usually the most upset about losing pictures."
Photos aren't the only valuable files on computers, however. For students, some of the most important information on a computer includes assignments, papers and research.
The Geek Squad in Lawrence sees a lot of hard drive issues and requests for data retrievals around the start of semesters and during finals.
"Around finals time we usually have a few people come in who don't have a project or a paper backed up and then they're computer goes out on them," Christensen said. "People don't normally think about backing them up until they're gone."
Files can vanish for a number of reasons including hard drive crashes, accidental deletion, theft or damage to the computer. While some data recovery experts are able retrieve files when a hard drive crashes, beta recovery can cost several thousand dollars.
"We always recommend backing everything up in advance and to keep an ongoing backup," Christensen said.
At Best Buy, if the Geek Squad is not able to recover data at the store, they can send it off to a large repair center to do more in-depth recovery. The cost varies depending on the services required.
External hard drives are one way to backup computer files. They range in cost from $75 to $150, but compared to the $3,000 to $5,000 one might pay for recovery, an external hard drive is a cost effective method, Greenbaum said.

Another option when the hard drive crashes is to buy a new computer and transfer the information. At Best Buy, the customer can do this at a discounted rate of about $100 to $150, Christensen said.
Online backup services, such as Carbonite, Mozy, CrashPlan, and Backblaze, are another way to backup computer files. Most of theses services are about $50 per computer a year, with no limitations on how many files can be baked up.
Christensen said he would recommend using an external hard drive in addition to online backup services just to make sure the information is backed up in two places.
"Being prepared is the best offense," he said. "We recommend getting an external hard drive and keeping everything backed up in at least two locations."
Despite simple and cost effective backup solutions, some computer users need to be persuaded when it comes to taking the time and effort to backup files, Greenbaum said. Some people perceive their chances of theft or damage to the computer to be pretty low.
That may be true, but even if nothing happens to the computer externally, all hard drives will eventually fail. Laptops in particular tend to see more hard drive issues because they are mobile, Christensen said.
"A 3-year-old computer is like a car with 100,000 miles on it," Greenbaum said. "You have to expect that your computer is going to fail at some point. A good rule of thumb is to replace your computer every 3-5 years."
Despite any inconveniences associated with backing up files, Readinger is adamant about backing up photos, documents, and other information, such as taxes. He backs up his files at least every two months.
"Computers age so quickly, so it's important to keep that process up," Readinger said. "If you get into the habit of doing it and you keep it up, someday it is going to make the difference for you."
Copyright 2018 The Lawrence Journal-World. All rights reserved. This material may not be published, broadcast, rewritten or redistributed. We strive to uphold our values for every story published.